Taunton Woman Sentenced For Attacking An Eyewitness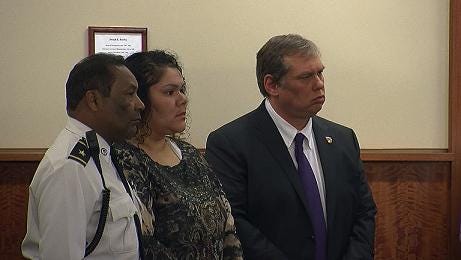 A young woman who came forward after witnessing a 2009 shooting in Taunton, became a victim herself.
The woman who brutally beat her, just for talking to police, is on her way to prison tonight.
The victim in the case is in the Massachusetts witness protection program. She was expected in court today, to face her attacker, but prosecutors say she changed her mind because she was afraid.
26-year-old Damaris Gonzalez appeared calm as she awaited her sentence flanked by lawyers in court today. Earlier this month, she was found guilty of attacking a witness to a 2009 shooting. Prosecutors say it was a case of revenge because the suspect in the shooting case was her half brother, who's now serving time in prison for that crime.
"We needed to make a statement on this case and I hope that we did," said Bristol County District Attorney Sam Sutter.
But he didn't quite make the statement he was shooting for. He'd requested the maximum sentence of 18-20 years for Gonzalez, but the judge gave her four to five with seven years probation.
It's a ruling that the district attorney says doesn't reflect the importance of protecting witnesses, whose testimony can be critical to solving cases.
Sutter says, "there's a reason why the homicide solve rate in the United States of America now is about 57 percent."
Sutter says crimes like this one, are the perfect example of why witnesses are too scared to come forward.
"When a protected witness is attacked, and the judge conceded that Ms. Gonzalez instigated the attack and those were his words when that takes place I think that a stronger message needed to be sent," said Sutter.
The state's witness protection program has sheltered a hundred witnesses from Bristol County since 2007.
In this case, the witness was living out of state, but returned home to Taunton to celebrate a new job when she was attacked.