Tearful testimony from Odin Lloyd's sister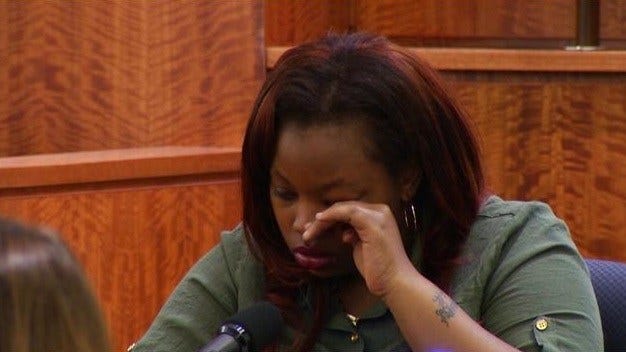 By: Melissa Randall
@MRandallABC6
Shaquilla Thibou took the witness stand Monday in the first murder trial of Aaron Hernandez. The younger sister of Odin Lloyd, the man allegedly killed by the former Patriot, fought back tears as she described receiving several text messages from Lloyd in the early hours of June 17, 2013. Those messages would be the last time he was ever heard from.
Those texts read "you know who I'm with" "NFL" "Just so you know." Thibou was not allowed to discuss the contents of those messages recieved at 3:07 AM, 3:11 AM, 3:22 AM and finally 3:23 AM. However, the jury was able to see surveilance video of Lloyd getting into a car infront of his Dorchester home. It shows the rented Nissan Altima allegedly driven by Aaron Hernandez.
Most of day 18 centered on tracking co-defendant Ernest Wallace's movements over Father's day weekend that year. Justin Darrow, an expert from cell phone provider Sprint, testified the phone pinged cell towers in Bristol, CT., North Attleboro near Hernandez's home and Dorchester where Lloyd was picked up. Records also show several calls were made from Wallace to Lloyd in the hours before the murder. After Lloyd was picked up the phone went silent until 7 hours after the murder when Hernandez called it.
Darrow became overwhelmed at least twice during his hours long testimony. At one point he had to take a moment. When he gathered his thoughts he appoloigzed saying, "It's a big case. Sorry." The judge had his comment immediatly stricken from the record.
On cross examination defense attorney James Sultan got Darrow to admit that his company was being paid $250 an hour for his testimony. Darrow also agreed that while he reviwed 131 calls for the case he did not know the content of any of those conversations.
Ater juror left for the day a hearing was held about a demonstration of a Glock .45 which is the same as the missing murder weapon. The defense protested, but in the end the judge ruled in favor of the State with stipulations.
Also today prosecutors renewed a motion they previously filed to allow testimony about another shooting Hernandez is alleged to have committed in Florida. The ex-NFL players long time pal, Alexander Bradley, is accusing Hernandez of shooting him in the face in February of 2013. Prosecutors say the defense opened the door when they said the former Patriot wouldn't have shot his friend, Odin Lloyd.
© WLNE-TV 2015