Teen attempts world record for cooking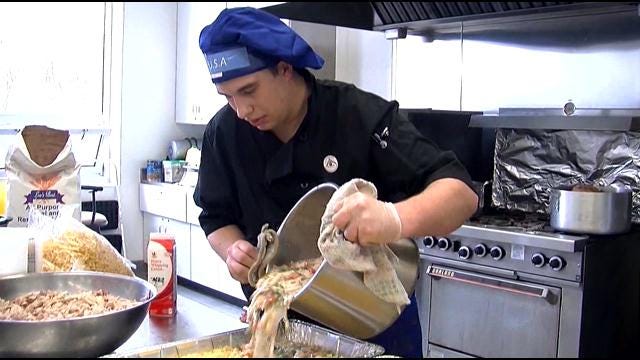 By: Melissa Randall
A Smithfield teen is attempting to set a world record in the. The high school senior is on his way to cooking for 40 hours straight.
Ben Perry,18, has a passion for cooking and is attempting to prove he's got what it takes in the kitchen. If he succeeds he will break the Guinness World Record by 1.5 hours.
"The hardest part is staying on track- making sure everything goes well- staying with the chart I made that says what I'm doing hour by hour minute by minute," said Perry when we caught up with him around 9 am Tuesday. He began his attempt just after midnight in the kitchen at St. Basil The Great Church in Lincoln.
Perry says the he current record holder, a professional chef in the Netherlands, cooked for 38.5 hours. In order for the high school senior to beat that Perry has to follow the same rules. He must be the sole chef, have two dish is going at once, and everything he cooks must be made from scratch.
Every moment in the kitchen is recorded for Guinness officials both by video and witnesses who will prepare signed statements.
There is one big difference in the way Perry is going about meeting the deadline.
"He decided to take on this feeding of 200 people 3 times a day which added a whole other element to this," said Joyce Perry, Ben's mother.
The meals cooked over the next day and a half will go to feeding people at Amos House in Providence and House of Hope in Cranston.
The event became a family affair. Perry's godmother, parents and brother will be there all 40 hours to support the budding chef.
"He's doing what he knows and what do you love so I think he's doing a really great job," said Sam Perry, 20.
The younger Perry brother only gets one 5 minute break per hour. He can save them up and use the time for a nap if he so chooses.
The record attempt doubles as Perry's senior project.
He should complete the 40 hour goal shortly after 4 PM Wednesday.
© WLNE-TV 2014