Teen who challenged prayer banner to be honored at Playboy Mansion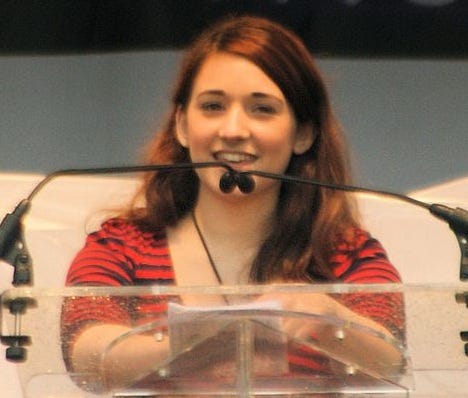 Dee DeQuattro
Twitter: @DeeDeQuattro
A Cranston teenager who challenged a prayer banner that hung on the walls of the Cranston High School West and won will be honored by the Hugh Hefner Foundation at the Playboy mansion on May 22.
Ahlquist is a 2013 recipient of a Hugh M. Hefner First Amendment Award in the category of education. Ahlquist is the youngest recipient of the award this year.
She is one of 7 recipients who will be honored at the reception at the Playboy Mansion hosted by Hefner's daughter, Christie. Another individual will receive a lifetime achievement award at the event.
The award was established by Christie Hefner in 1979 and honors people who have made "significant contributions in the vital effort to protect and enhance First Amendment rights for all Americans."
Ahlquist will be receiving the award for her, "courageous and successful lawsuit over a prayer banner in her high school, a clear violation of the Establishment Clause of the First Amendment."
Ahlquist challenged the banner saying as an atheist it violated her First Amendment rights to freedom of religion. A Federal Judge held that the banner is a religious symbol and should not be hung inside a public school.
The banner was removed from the auditorium in March of 2012.
As for Hugh Hefner, it is unclear if the "Playboy" founder will be at the awards ceremony but a spokesperson said that is is typical for him to make an appearance and meet the recipients.