Teens charged after student gets sick due to marijuana candy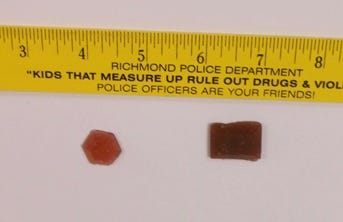 By: Dee DeQuattro
Twitter: deedequattro@
Email: ddequattro@abc6.com
Two 14-year-old students at Chariho Middle School are facing drug charges.
One accused of selling a "marijuana candy" to the other causing that student to seek medical attention.
According to police, on March 26, a student who obtained the hard candy from another student experienced a reaction after consuming the candy and needed medical attention.
On March 27, the two 14-year-old students were arrested after investigators were able to review surveillance video from the school hallways and were able to identify the two students engaged in what appears to an apparent drug transaction.
One student arrested was also in possession of two Concerta pills that she was not prescribed and another controlled substance in the form of a brown candy. The candy tested positive for traces of methamphetamine but more conclusive testing is being conducted by the Rhode Island Department of Health.
The other 14-year-old student was also charged with distributing a controlled substance in or near a school.
To assist parents
and/or students who may be seeking support regarding substance abuse issues, the police and school system
offer the following contact information for counseling resources at Chariho Regional
High School and Chariho Regional Middle School:
Deirdre Murphy, LCSW
Prevention Counselor
(401) 364-7778 x 2143
Deirdre.murphy@chariho.k12.ri.us
Terri Censabella, SAC
Prevention Counselor
(401) 364-0651 x2264
Terri.Censabella@chariho.k12.ri.us
Additionally, resource information is available through the
Chariho Task Force on Substance Abuse Prevention: www.charihotaskforce.com
Contact person:
Kathy L. Gardner
DFC Grant Manager/Community Outreach
(401) 330-9592
kgardner@charihotaskforce.com
(C) WLNE-TV 2014