Tension high in the courtroom as alleged murderer faces accuser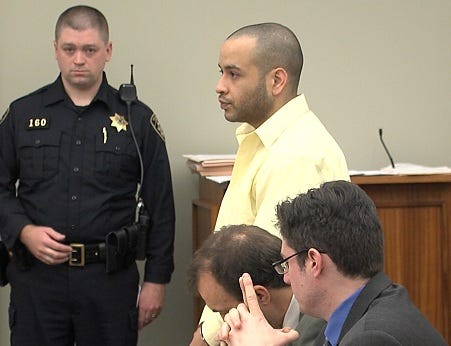 It was an emotional and tense scene in the courtroom on Monday as Matthew Chivers came face to face with Tony Gonzalez, the man he says shot and killed his best friend, Carl Cunningham.
Chivers glared across the courtroom at Gonzalez who remained emotionless as his ex-girlfriend, Patricia Delomba's new boyfriend pointed the finger at him for the murder of Carl Cunningham Jr. on Jan. 21 2012.
Chivers was brought to the witness stand in a prison jumpsuit and handcuffs. He told the prosecution he was currently incarcerated and rattled off a list of offenses including passing counterfeit notes, breaking and entering, and assault with a dangerous weapon in a dwelling
He told the jury how Cunningham lived with him and how he was his best friend. When the prosecution showed Chivers a photo of Cunningham he broke down in tears.
He said he felt uncomfortable in the court room setting but way there to testify against the man "who killed my best friend."
Chivers relayed his account of the shooting he recalled Cunningham's last words, "Chivers, I have been hit, and I am not going to make it." Chivers said he told Cunningham to spit out the bullet that was stuck in his jaw.
It is alleged that Gonzalez meant to confront Chivers, Delomba's new boyfriend, but instead shot and killed Cunningham.
The dramatic 911 call placed by Chivers that night was replayed in part to Chivers and the jury.
Chivers recounted making the call and trying to hold pressure on his friend's wounds.
Chivers admitted to the defense that he never saw Gonzalez because it was dark and that he only saw what he looked like was a gun. He said he believed the shooter was Gonzalez because he had texted Delomba that he would be there in ten to fifteen minutes to confront Chivers.
Chivers said Gonzalez wanted to fight all day and that the dispute started after Delomba admittedly lied to Chivers and claimed Gonzalez had broken into her home.
Delomba then gave Chivers Gonzalez's number and the two began to call each other and fight back and forth on the telephone.
Earlier in the day Delomba was defiant and rude under cross examination scoffing and mocking the defense. At one time saying she was "not going to deal with" defense anymore and said she "wasn't there to answer questions," to which the judge corrected her that is exactly why she was there.
As she exited the courtroom Delomba looked toward Gonzalez and cussed in his direction.