Tests show mustard gas-tainted clam boat clean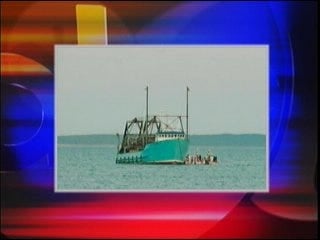 NEW BEDFORD, Mass. (AP) – A clam boat that was isolated off New
Bedford after pulling up mustard-gas tainted munitions shells has
steamed to shore after preliminary tests showed it was
decontaminated.
Coast Guard Petty Officer Lauren Jorgensen said the vessel ESS
Pursuit was docking in New Bedford on Saturday.
Jorgensen said additional samples from the Atlantic City,
N.J.-based vessel must be cleared by Environmental Protection
Agency labs before the boat can head home. Jorgensen said that's
likely to take a few days.
The boat's been isolated off New Bedford since Monday, a day
after it pulled up eight shells off Long Island, including one that
leaked mustard gas.
One crewman was hospitalized at UMass Memorial Hospital in
Worcester with severe blisters from the chemical. He was released
Friday.