Texas law enforcement says 'wrong decision' not to enter classroom sooner during deadly shooting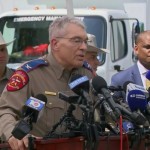 UVALDE, TX (WLNE) — The Texas Department of Public Safety held a press conference Friday, three days after a deadly school shooting in Uvalde.
A gunman killed 19 children and two adults, at Robb Elementary School on Tuesday — the worst mass shooting at a school in a decade.
This came after the department declined to explain why officers had not been able to stop the shooter, identified as Salvador Ramos, sooner.
Children repeatedly called 911 asking for help, including one who pleaded: "Please send the police now."
Nearly 20 officers were in a hallway outside of the classrooms at a Texas elementary school for more than 45 minutes before agents used a master key to open a door and confront a gunman, authorities said Friday.
"From the benefit of hindsight…it was the wrong decision," said the Department of Public Safety.
The department said the 0n-site commander believed the gunman was barricaded in the classroom, and that the children were not at risk.
The Associated Press contributed to this article.