Thayer's Shark Bar at Center of Fox Bribery Charges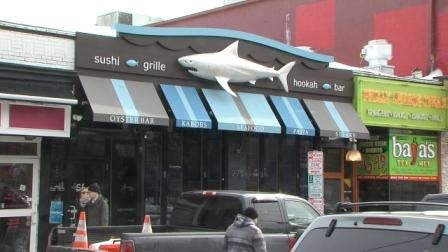 By Matt Blanchette
@mattblanchette
In any bribery case there are two sides, those who accept the bribe, and those who offer the bribe.
In the Gordon Fox case the United States Attorney's Office says the owners of Shark Bar on Thayer Street are the ones that made the offer.
The hours posted on the door at the Shark Sushi Bar list it as being open on Tuesday's at 11 a.m.
This Tuesday it was closed.
Two registered owners of the bar Ray Hugh and Joe Dalomba are said to have offered former Rhode Island Speaker of the House Gordon Fox a total of $52,000 to help get their liquor license approved in 2008.
At the time, Fox was the Vice Chairman of the Providence Board of Licenses.
Hugh was not at his home Tuesday, but ABC 6 was able to reach Dalomba by phone.
"I have nothing to talk to you about my friend I am sorry," he said. Do you know anything about any meeting? we asked, "Like I said I have nothing to say to you. Please don't call me back."
As the bribery charge is one small part of the Gordon Fox case, at this point it is unclear if the owners of the bar will face charges as well or if they cooperated in the US Attorney's Investigation.
"By the time we discovered that the federal statute had passed. whether or not anyone else will be charged is under review," US Attorney Peter Neronha said.
"I view both sides of the transaction as problematic, the comment I made earlier about paying to play. It's certainly something we need to take a look at," he added.
The shark bar has successfully renewed its license each year without incident since opening in 2008. But in light of these charges, current Providence Mayor Jorge Elorza wants to take action.
"We are aggressively looking into that right now.we have to send a strong message that this cant be tolerated. So we are looking into whether we can legally revoke the license."
There was some controversy in 2008 whether or not to approve the license based on the amount of bars on Thayer Street at that time.
Mr Fox said during its approval hearing that Shark Bar would "enhance the experience up there."
The vote passed 3 to zero with one member abstaining. Shark Bar just had its liquor license renewed for one year in December of 2014.