The effects of growing Providence violence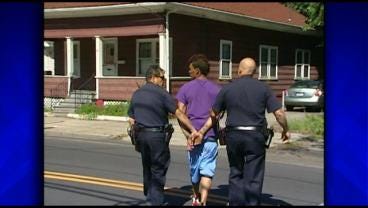 No matter where you live, the violence in Providence affects you.
The violence in the capital city affects businesses, tourism, conventions and when Providence is wounded, so is the state.
But for people who live and work among the violence it is an every day danger.
Anthony Hall is 60 year old and has lived in Providence his whole life.
Just in the last month there have been 15 shootings in the city – seven of them homicides.
The latest, 21-year old Devon Young, who was shot while sitting in his car in his parents driveway on baker street.
Anthony Hall lives in veteran's housing about a half mile from that crime scene.
"Do you worry about your safety?" Shannon asks.
"Of course I do. It used to be you could walk around the streets without worrying. Now I don't come out after dark," Hall replies.
"These are not stranger on stranger violence. For the most part, the victim and offender know each other; it stems from disputes, previous activity," explains Providence police chief Hugh Clements.
Chief Clements and the Providence police are busy putting together a new initiative to curb the escalating violence in the capital city, a plan they will announce next week.
One of the proposals is to be more aggressive with traffic stops for minor offenses, including questioning and frisking.
Along with 5 other organizations, the A-C-L-U sent a letter to city brass criticizing the plan, saying it equates to racial profiling.
"Stepping up the humiliating and dehumanizing questioning and frisking of our minority youth without cause is a simplistic approach to a complex problem and one that we believe will do more harm than good," says Stephen Brown in a letter.
But for residents like anthony hall, a more aggressive police presence would be a wecome sight.
"Guys walking the beat, out on bicycles, patrol, so people can see them, being in the hot spots."