The mystery of the missing Clay Pell Prius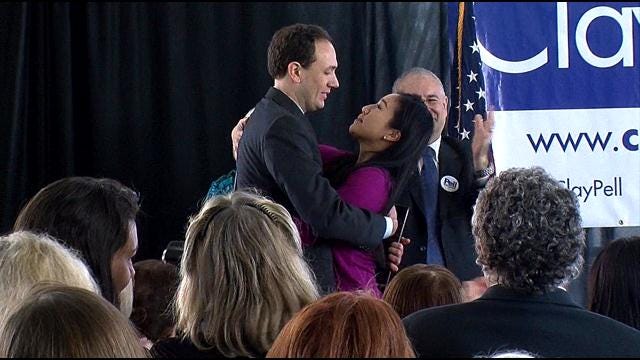 by ABC6 Chief Political Reporter Mark Curtis
The curious case of Clay and Michelle Pell's car continues. In mid–December clay drove the car to the Blue State Coffee shop on Thayer Street. He apparently forgot about his Toyota Prius – which looks like this one – and he walked back home. The next day when the car was not outside his East Side home, he reported it stolen.
RI NPR Reporter Ian Donnis asked Candidate for Governor Angel Taveras, "Does this raise questions in your mind about Clay Pell's fitness as a candidate? Taveras responded, "I have no comment on that. I'm here today to talk about job training."
Pell's opponents for Governor clearly don't want to talk about the odd case, and neither do the Pell's.
ABC6 Chief Political Reporter Mark Curtis said, "Now the Pell campaign took the somewhat unusual step of issuing a press release that some have interpreted as critical of the Providence Police. It in, it says, Clay Pell had to wait two hours for a follow up police call. And that there were inaccuracies in the police report."
Pell eventually found his own Prius – apparently forgetting he left it a parking lot across the street from the coffee shop.
ABC6's Mark Curtis asked Mayor Taveras, "He directly criticized your police department. This is not about the race for Governor, you're the Mayor of the city and he has criticized your police department for how it handled it."
Mayor Taveras responded, "I have no comment on that, I'm here to talk about the skills gap."
Our ABC6 Chief Political Analyst says Pell needs to prepare for more scrutiny. Vincent "Buddy" Cianci, Jr., said, "It's a tight race and everything that a candidate does from now until September, in that primary, is going to be documented, the press is going to make a big deal about it because everything that someone does, who runs for Governor, it has a bearing on this race. It has a bearing on his background. It has a bearing on how he handles life and handles matters."
While the Pell's Prius was found in December, it was stolen in February and is still missing.