"The Sunday Political Brunch" – ABC6 Political Reporter Mark Curtis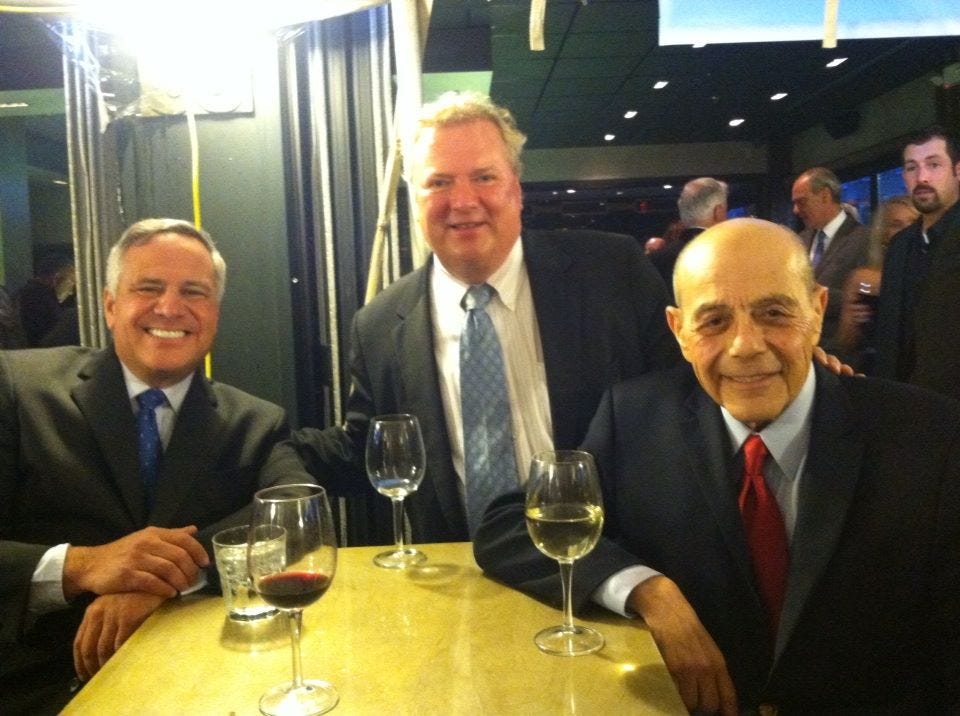 by ABC6 Chief Political Reporter Mark Curtis
"The Sunday Political Brunch" — May 4, 2014
(Providence, Rhode Island) – I attended a fun birthday party this past week for my friend, co-worker, and fellow Marquette University alum Vincent A. "Buddy" Cianci, Jr. At 73, Buddy is beating back cancer, and thinking about running for a third stint as Mayor of Providence (Photo above with former Mayor Joe Paolino, me, and former Mayor Cianci). It got me thinking about some of the more famous political comebacks – and comeback attempts – in my lifetime. Let's "brunch" on that this week:
"Third Time the Charm" – Like him, or not, (and there are plenty of both), but Buddy Cianci is an American political legend. Elected as the Republican Mayor of Providence in 1974, at the age of 33, Cianci was the only GOP Mayor of a major American city at the time. He was forced to resign from office in 1984 after an assault conviction, but was elected Mayor again in 1990. In 2002, he was again force to resign in the "Plunder Dome" scandal and served almost five years in federal prison. Yet, Cianci, who was widely credited with the economic and aesthetic rebirth of Providence in the 1990s, is again considering a run for Mayor. As political analyst Valerie Endress, Ph.D., told me this week, "He's got a real shot!"
"The Comeback Kid" – I've often said that popular politicians are like, "a cat with nine lives." No one exemplifies that more that former President Bill Clinton. Clinton, whose womanizing ways almost torpedoed his 1992 run for President, finished a strong second in the 1992 New Hampshire primary on the heels of the affair accusations from Jennifer Flowers. Clinton's staff as Governor of Arkansas for 12 years and for 8 years in the White House, constantly had to deal with what they called, "bimbo eruptions." Yet, Clinton won reelection in 1996, and beat back impeachment in 1999. He and a Republican-led Congress balanced the budget and the era was one of peace and prosperity. He is well-loved by many to this day.
"The Unforgiven" – Yes there are great political comebacks, but there are comeback failures, too. Just last year former Congressman Anthony Weiner was trounced in his attempt to be elected Mayor of New York City, and former Governor Eliot Spitzer (D) New York was badly beaten as he tried to revive his political career by getting elected New York City Comptroller. So why do some succeed in their comebacks, while others fail miserably? I'll offer my analysis shortly!
"Failing Forward" – At the age of 31, Dennis Kucinich was elected Mayor of Cleveland, Ohio. Within a short period of time the city went into default (not all Kucinich's fault, as the Mafia put out a hit on him…really!!!). He was voted out of office in 1979, and was considered dead politically. Yet, in 1995, he was elected to the Ohio State Senate, and two years later he was elected to Congress where he served 16 years. He even staged a feisty campaign for the Democratic Presidential nomination in 2008. Today the ultra-liberal Kucinich is a counterpoint analyst on the Fox News Network. Despite a rough start in politics, he's an enormous success.
"Buddy's Buddy" – If you think a third-run run as Providence Mayor, would be implausible for Buddy Cianci, consider the career path of his peer and political colleague, former Governor Edwin Edwards (D) Louisiana. Edwards – who like Cianci served time in prison for corruption – served three separate stints as Governor: from 1972 to 1980; 1984 to 1988; and from 1992 to 1996. Edwards, who once said the only way for him to lose an election, "is if I'm caught in bed with either a dead girl or a live boy," is now out of prison and running for Congress this year at the age of 86. You just can't make this stuff up folks! He just might win!
"Nixon's the One!" – Few in the political world have truly been the proverbial "cat with nine lives" as Richard Nixon. Nixon was elected to the U.S. House in the 40s; the Senate in 1950; and Vice President in 1952 through 1960. But then came the crushing defeats of losing a close Presidential race in 1960 to John Kennedy, and the California Governor's trace to Pat Brown in 1962. "You won't have Nixon to kick around anymore," he famously said. Yet, he came back to win the White House in 1968 and 1972, only to be forced out in the Watergate scandal and resigned in 1974. But he came back again, writing nine books and giving numerous lectures and was revered at his 1994 funeral for his diplomatic breakthroughs with Russia and China.
"Why All This Matters" – The public is very forgiving. Politics is the art of the possible. Political cats can have nine lives. Yes, they are all political clichés, but with a certain ring of truth. But why do some comebacks succeed, while others fail? If people associate the politicians with success, they may be forgiving and vote them in again. While Buddy Cianci is remembered for the Plunder Dome scandal that sent him to prison, he is also remembered as one of the principal architects of the urban rebirth of Downtown Providence in the 1990s after the city slid into depression and decay. It is vibrant to this day, and many credit Cianci. On the other hand, Spitzer and Weiner were widely rejected by New Yorkers. Their terms were not remembered for any great successes – and in Weiner's case – he further perpetuated the scandal by "tweeting" more lewd self-portraits. Here's the final cliché – "Politics is a 'what-have-you-done-for-me-lately' business!"
What are your thoughts? Would you vote to revive the career of a disgraced politician? Click the comment button at www.MarkCurtisMedia.com.
© 2014, Mark Curtis Media, LLC.
Photo Courtesy: Dee DeQuattro/Mark Curtis, ABC6 News.