Their Fairytale Complete: A Boy for the Duke and Duchess of Cambridge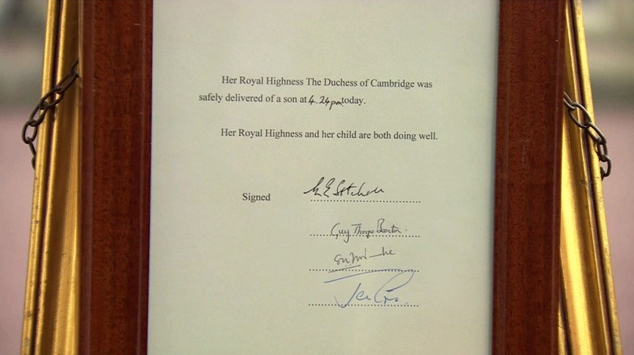 By News Staff
Twitter: www.twitter.com/abc6
It was the morning sickness heard 'round the world. On December 3, 2012, the Duke and Duchess of Cambridge – Prince William and Kate Middleton – announced to the world that they were pregnant after she went to the hospital suffering from the acute morning sickness hyperemesis gravidarum. Now, seven months later, on July 22, 2013 at 4:24 p.m., that baby, now third in line to the British throne behind Prince Charles and Prince William, is born.
Ever since December, the royal couple have been under a magnifying glass, with people constantly commenting on Kate's maternity style, their visits to baby stores, and thoughts on whether it would be a little prince or princess.
"You have this gorgeous young couple," ABC News royal contributor Victoria Murphy told ABCNews.com. "He's a prince and she's a commoner, and they get married and this is their first baby — so it's like the completion of the fairy tale, and I think people find that really fascinating.
The world is still waiting to hear the baby's name. The tradition of a proclamation signed by doctors and then rushed to be displayed at the gates of Buckingham Palace was upheld, however. It revealed only that a healthy baby boy was welcomed into the world and that mom and baby are doing well.
He was born in the same private Lindo Wing of St Mary's Hospital in Paddington as his father and Uncle Harry and weighed 8 pounds and 6 ounces. The baby's timing made it so that, in astrology terms, he is a Cancer, just like his father and deceased grandmother, Princess Diana.
According to ABCNews, this birth marks the first time in almost 120 years that a reigning monarch, Queen Elizabeth II, 87, is alive at the same time as three generations of heirs: Prince Charles, 64, Prince William, 31, and, now, the latest addition to the family.
If Middleton had given birth to a girl, her daughter would have been eligible for the throne thanks to the British Parliament. Queen Elizabeth II, while the Queen, only took over position because her father, George VI, had bore no sons. Due to Kate's impending child, Parliament overturned the 300-year-old law to allow a daughter to remain in her position in line to the throne, despite if a son is born later on.
However, Middleton gave birth to a boy. Even though the baby is not even a day old, his future responsibilities are already known. Some of those duties, also according to ABCNews, include one day being the ruler of 16 sovereign states, as well as being the commander of the British Army.
Currently, most spectators are betting heavily on James or George to be his name.
Photo courtesy: MGN online – Andy Claybrook via Twitter
(C) 2013 WLNE-TV/ ABC News