See a fallen tree? There's an app for that!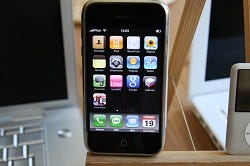 Gianna Fournier
Fall River is launching its Citizens Connect Smart Phone Application (App) Program on Thursday.
The Citizens Connect Mobile-App project is organized by the city of Boston and invests in innovative ideas at the local level through regionalization and other forms of efficiencies to sustain local services. The project displays the City's commitment to sharing ideas and resources with communities across the commonwealth.
Through use of this App, residents will be able to use their smart phones to report and take photos of non-emergency issues that they see within the community, i.e., fallen trees, sidewalk repair, trash not picked up, etc. The report will then be sent to the municipal employee(s) that are responsible for handling these concerns. Citizens Connect program also includes an easy-to-use Work Order Management (WOM) system that the municipality can utilize to track these reports and provide timely statuses to the public as well as enabling municipal employees to further communicate with residents.
"As Mayor of a major city I recognize that there are many components to improving the quality of life for our residents. Implementation of this program is another great stride forward in delivering a more efficient and effective government to the residents of our great city," said Major Flanagan.
Municipal trainings were held for staff earlier this year to integrate 21st century technology into the City's business processes. The Citizens Connect App was launched in 2009 and was one of the first apps in the nation to provide opportunities for residents to submit detailed reports of issues within their community.
The software app and services is free to download for anyone with a smart phone, will allow for unlimited users, and be provided for three years to the municipality at no cost.
To download the app, select Commonwealth Connect to be routed to Fall River's account.
(C) WLNE 2013