Thieves steal wheels off cars in the Greater New Bedford area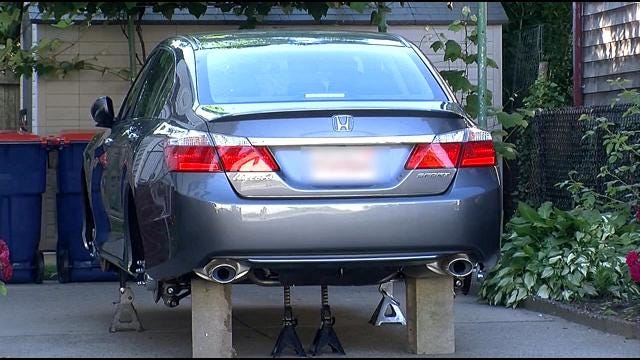 By: Melissa Randall
A Clay Street driver is the latest victim in a rash of wheel thefts happening around New Bedford. Earlier this week the owner came outside to find her gray Accord propped up on ccinder blocks
"It's actually been going on a lot in New Bedford but I didn't think it would be going on, you know, so close to home," said neighbor Tanya Avylla.
"It's kind of a surprise because this neighborhood is kind of quiet," said neighbor Lorenzo Lvazquez.
Police say about a dozen similar cases have been reported in the city in just the last few weeks. Fairhaven and Dartmouth have also bet hit with wheel thefts. Investigators say there isn't any pattern for which areas the robbers are hitting, but they do appear to be targeting Hondas specifically.
According to experts the tires the thieves are getting away with are worth about $100 each. It's the rims the robbers really want. In total the merchandise, per car, is estimated at a value of about $1500.
Police say the thieves seem to be working in small, organized teams and that the parts are likely being sold online for quick cash.
There are ways car owners can protect their property. For about $40 a set of wheel locks can be purchased. They should help deter thieves.
© WLNE-TV 2014
Follow me on Twitter @MelissaARandall