Those rallying for Indigenous People's Day speak on Columbus statue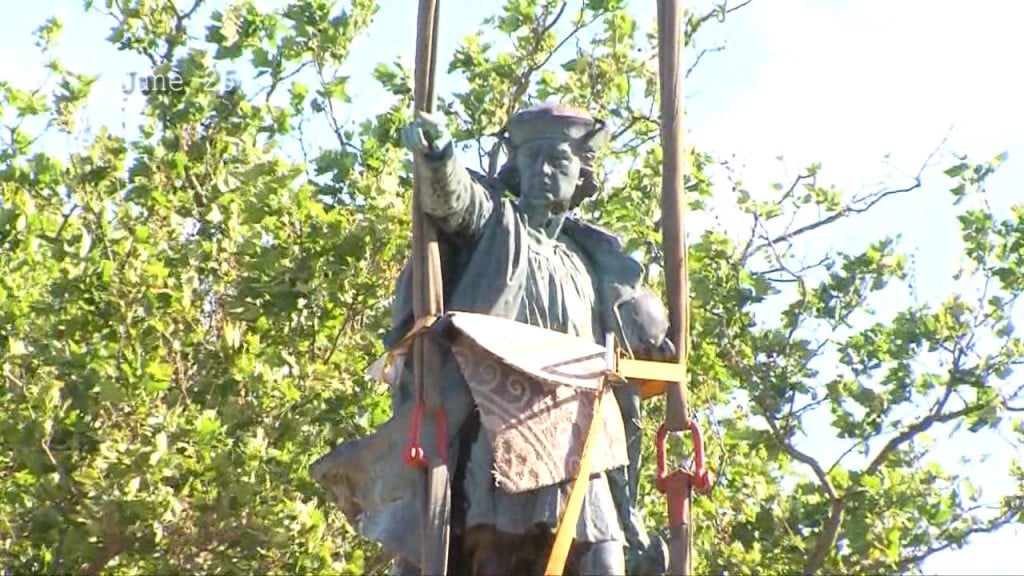 PROVIDENCE, R.I. (WLNE) – With today being Columbus Day, also known as Indigenous People's Day, it's a reminder that the City of Providence's own statue of Christopher Columbus is still in storage awaiting its fate after being taken down a few months ago.
The statue of Columbus used to be in the Elmwood neighborhood of Providence but it was removed in June after being vandalized multiple times.
Those at an Indigenous People's rally at the state house Monday said it has no place in Providence.
"As much as I respect the Italian community, and I do," said Tribal Elder of the Narragansett
Indian Tribe Bella Noka. "I don't understand why they want Columbus at all."
Debate has continued over where the statue should be placed, with some saying it should go to Federal Hill since Columbus was Italian.
"At least Federal Hill is a destination place," said Past President of the Sons and Daugthers of Italy Joe Florio.
But those at a rally in support of Indigenous People's Day Monday said they disagree.
"Columbus is a rapist, a murderer, and he committed genocide. There are a million great Italian Americans. We have Pastore, here in Rhode Island. We have Marconi, here in Rhode Island." said rally organizer Anita Bruno. "Why keep celebrating a murderer who committed genocide on this land?"
The city's Special Committee on Commemorative Works is supposed to advise on what's next for the statue and take input from the public.
It's unclear when that decision will be made.
ABC 6 reached out to Councilman James Taylor, who is a member of the committee and represents the neighborhood where the statue was, to see if there was any update on the fate of the statue, but did not hear back.
The Board of Parks Commissioners will have the final say.