Thousands turn out for candlelight vigils in memory of marathon victims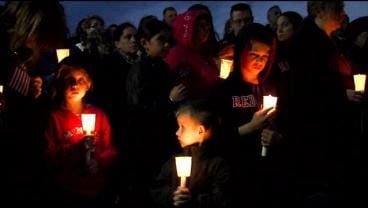 By: Abbey Niezgoda
aniezgoda@abc6.com
A series of vigils in Boston overnight. One of them in Dorchester, a ceremony for the youngest victim, 8–year–old Martin Richard.
One day after tradition was torn apart by an act of terror, a community comes together, praying for peace.
"I just feel really bad for all of these people. It's such a great tradition and such a great place," said one woman.
Their handwritten hope just steps away from what looks like a war zone on the Boston Common, and a few miles away from the park in Dorchester, where children held candles in honor of someone no bigger than them.
"He was just there to cheer on his father. And he didn't do anything to anyone. And now he's gone," said another community member.
Martin Richard had just watched his dad cross the finish line when the bomb went off that killed him, he was 8 years old. He a valuable member of Austin Neal's basketball team.
"Last time I saw him we were playing street hockey, I pretty much see him everyday and I just want to make sure it's okay," said Neal.
The Dorchester community struggling to understand why one of their own was taken, so many unanswered questions, but with candles, with hugs and with prayer, they are strong.
It may not be enough to move past everything that happened on that finish line, but it's a start.