Threatening Essay Surfaces At East Greenwich High School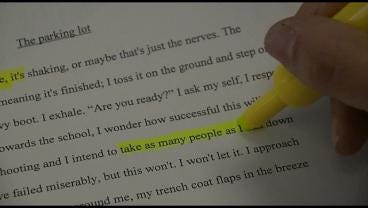 A threatening essay at East Greenwich High School has parents on high alert. The sophomore who wrote it detailed step by step how he would shoot up the school. The essay was handed in late last month. School officials only notified parents after the student posted it on Facebook this weekend.
"Shooting police officers, shooting cops, it was very disturbing," Barbara Defusco, a parent said.
Defusco dropped off her daughter late to East Greenwich High School out of concern over an essay written by a sophomore boy.
In the essay he says, "I feel the gun against my side." Then he goes on to say he would shoot a police officer first and then find the students to "take as many people as I can down with me."
Defusco found out about the essay after the student who wrote it posted it on Facebook this weekend. Once it got out, the school department was forced to send an email. Defusco was outraged to learn the essay was turned in 10 days ago.
"We deserve to know what's going on and what we're sending our kids into everyday," Defusco said.
Youth Counselor Bob Houghtaling says precautions are being taken.
"We've excluded the person from school," Houghtaling said. "And we are bringing in extra police."
Houghtaling knows the student personally and just wants to see him get help.
"He is a good kid, a very bright individual," Houghtaling said. "Sometimes going through adolescence is not the easiest thing."
But students and parents say that is not enough to put their concerns at east.
"What if the kid went off and did what he said he was going to do," Defusco said. "Then we would be dealing with a lot more than a threat."
There has still been no official decision as to whether or not the student will return to school. Until then, police are beefing up their presence on campus.