Three arrested in drug bust near Wareham High School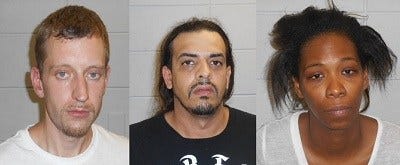 By Alana Cerrone
Wareham Police have arrested three people after executing a search warrant for illegal drugs.
On Monday morning, detectives searched a Sawyer St. apartment as part of an investigation involving the possession and distribution of illegal narcotics from the residence, which is located within 1000 feet of Wareham High School.
When detectives entered the apartment, they arrested 34-year-old Justin Beltran and 34-year-old Natasha Winslow for outstanding warrants while they searched the residence, which is rented by 27-year-old Dylan Huntoon-Walsh.
Winslow was found with 9 Hydrocodone and Clonazapam pills.
During the search, detectives found 42 yet-to-be-identified pills, about 5 grams of cocaine, 8 grams of heroin and several pieces of drug paraphernalia consistent with distribution of illegal drugs.
Huntoon-Walsh was arrested on drug-related charges including possession of heroin with intent to distribute, possession of cocaine with intent to distribute, and drug violation within a school zone.
Winslow, of Medford, Mass., was charged with possession and arrested on an outstanding arrest warrant. Beltran, of Boston, was arrested on an outstanding default warrant.
© WLNE-TV 2014