Three Bryant Players Earn All-NEC Honors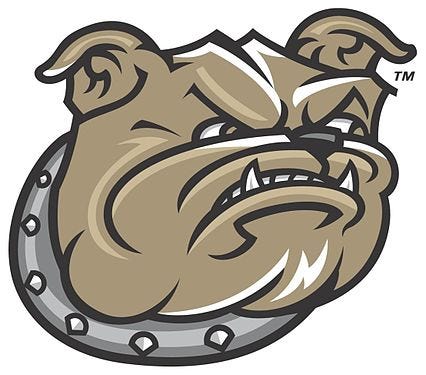 Bryant University Press Release
SMITHFIELD, R.I. — For the second-straight season, the Bryant
University men's basketball team caps off a stellar regular season with a
trio of all-conference honorees, as senior forward Alex Francis (Harlem, N.Y.), junior guard Dyami Starks (Duluth, Minn.) and senior guard Corey Maynard (Adelaide, Australia) all garnered postseason accolades for their 2013-14 performances.
The trio is headlined by Francis, who takes home his second-straight
All-NEC First Team nod, while Starks also repeats last year's honor with
a place on the all-league second team. Maynard caps off his impressive
Bulldog career with his first postseason recognition, named to the
All-NEC Third Team. Bryant is the only team to see three players
selected to the top three all-conference squads.
Francis began his stellar career at Bryant by winning the NEC Rookie
of the Year award and ends it with back-to-back First Team All-NEC
nods. An elite-level athlete, Francis finishes around the hoop like few
in recent NEC memory, and has the numbers to back it up. With 2,078
points and 984 boards, the Harlem, N.Y., product could become the first
player in conference history to finish with 2,000 points and 1,000
rebounds for his career. He is sixth all-time on the NEC's list of
leading scorers and with one point will become the only player in league
annals to rank in the top-five in career scoring and rebounding. This
season, Francis is third in the NEC in point production (19.0), second
in rebounding (8.3) and first in field goal percentage (.578) and
double-doubles (11).
There are few NEC players in recent memory who have the ability to
put up points in a hurry like Starks. Adept firing from long range or
attacking the rim, Starks was a four-time Choice Hotels/NEC Player of
the Week in 2013-14. He started the year dropping 35 points against
nationally ranked Gonzaga and never looked back, finishing the regular
season fourth in the NEC with 18.9 ppg. Starks, a Duluth, Minn., native,
is also third in the league with 2.9 treys per game and has tallied
five games of 30+ points on the year. In the two seasons since his
arrival, Bryant has won 37 games and Starks has amassed 1,095 points.
After playing off the ball much of his career, Maynard eased into the
starting point guard role for Bryant this season and didn't miss a
beat. A player capable of burning opponents from long distance (35
3-pointers), driving to the hoop (56.7 percent on two-point
opportunities) or via the pass (team-best 4.3 assists per game), the
Australian native has been a fixture for the Bulldogs, who enter the NEC
Tournament as the No. 3 seed. Maynard is averaging 13.5 ppg, good for
11th in the conference, and he enters the postseason with 1,043 career
points.
The trio of accolades now brings Bryant's all-conference total to
nine since the program first became eligible for NEC postseason honors
in 2009-10.
Now, the Bulldogs will look to add another achievement to their
2013-14 resume — the program's first Division I postseason victory.
Bryant, who finished third in the NEC regular-season standings, will
host sixth-seeded Saint Francis University Wednesday at 7:00 p.m. at the
Chace Athletic Center in the Northeast Conference Tournament
Quarterfinals.