THREE-FOR-ALL: Allen Breaks Finals 3 Record as Celts Beat LA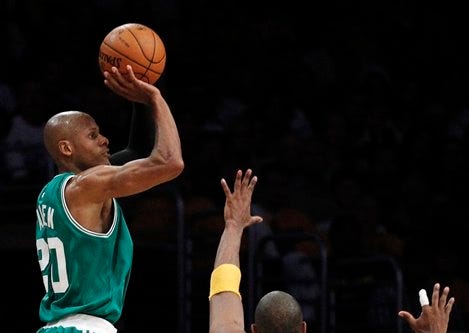 LOS ANGELES (AP)—Somewhere during the second quarter in Game 2 of the NBA finals, Ray Allen slipped into that shooting zone only visited by real-life superstars and movie characters.
With his fundamentally flawless jumper snapping crisply from his wrists, the Boston guard hit 3-pointers in dizzying bunches against the helpless Los Angeles Lakers. He made seven in the first half and finished with a finals-record eight 3's in the Celtics' 103-94 victory Sunday night.
Allen's wry smile after he hit three straight 3-pointers in a two-minute span evoked memories of Michael Jordan shrugging his shoulders during his 35-point half against Portland in the 1992 finals. Even Jesus Shuttlesworth— you know, the sharpshooting kid Allen played in "He Got Game"—would have been proud.
"There's no better place, moment, time … to win a game, and to win in a great fashion," Allen said. "I don't know what record it is that people are telling me that I got, but it's great to have, great to be able to look back on it and say I did that. This is definitely our time."
Yet Allen's barrage still wasn't enough to hand the defending champions their first home playoff loss of the season. All that elegant brilliance might have been wasted without Rajon Rondo, whose triple-double contained much of the dirty work necessary to even the finals.
While Allen scored 27 of his 32 points in the first half with a record-setting 3-point shooting display, Rondo completed his fifth playoff triple-double down the stretch. Taking charge after Allen cooled down, the point guard racked up 19 points—including the quick-reflex basket that put Boston ahead for good—along with 12 rebounds and 10 assists.
"The best part about getting a triple-double is getting a win," Rondo said. "That's pretty much it. It would be pointless to get a triple-double and lose the game."
Game 3 is Tuesday night in Boston.
Kobe Bryant scored 21 points while battling more foul trouble for the Lakers, who couldn't catch up to Boston's dynamic guards in Los Angeles' first home playoff loss since last season's Western Conference finals. Pau Gasol had 25 points and eight rebounds for the Lakers, and Andrew Bynum added 21 points and six rebounds.
"It's a series," Bryant yawned. "You're trying to stay even-keel. You don't get too high, don't get too low after a win or a loss. You just go into the next one and take care of business."
Allen had just 12 points on 3-for-8 shooting in the finals opener, never finding his rhythm after early foul trouble. He didn't even hit a 3-pointer in Game 1—but he was just saving it up.
Allen tied the finals record for a full game with seven 3-pointers in the first half alone, sliding effortlessly around his teammates' picks for open shots while Derek Fisher and Bryant flailed in his wake. He didn't even miss until his eighth try rimmed out in the waning moments of the half, stunning both his bench and the fearful Staples Center crowd.
"I didn't think it was easy, getting the 3's up in the air," Allen said. "You look up and everybody is probably thinking, 'How did this guy get open?' But there's so much going on there—big screens, misdirection plays. I thought they did everything they could to keep me from shooting 3's, (but we) worked tirelessly."
With his eighth 3-pointer midway through the third quarter, Allen broke the record for a full finals game he shared with Kenny Smith and Scottie Pippen— and though he didn't hit another under tight defense, Rondo took charge.
Rondo's layup put the Celtics ahead for good with 3:21 to play. The play was vintage Rondo, scooting in to collect a shot blocked by Gasol and scoring before Gasol could react.
Kevin Garnett then hit a jumper, and after another possession of stifling defense, Rondo hit another jumper, celebrating with a swing of his arm in the mostly silent Staples Center.
Rondo has grown into possibly the Celtics' biggest offensive threat in these playoffs. Although it wasn't as gaudy as his monstrous 29-point, 18-rebound, 13-assist Game 4 in the second round against Cleveland, his 10-point fourth quarter against the Lakers looms among his largest achievements—particularly if Boston gets rolling toward its 18th championship during three straight games at home over the next week.
"He just did a lot of things—the blocked shots, the steals," Boston coach Doc Rivers said. "He's our quarterback, and he does a lot of stuff for us. He was special tonight."
After the Lakers' whistle-plagued 102-89 victory in the opener, both teams again struggled under the weight of foul trouble. Garnett and Bryant both spent extra time on the bench, with Bryant picking up his fifth foul early in the fourth.
Garnett had just six points, and Paul Pierce never got going, scoring 10 on 2-of-11 shooting. The Lakers stayed in it with an inside game that generated 41 free throws—15 more than Boston—and strong efforts from Gasol and Bynum.
With Allen and Rondo playing spectacular basketball, none of their flaws mattered much.
"Our big guys played great," Lakers coach Phil Jackson said. "We didn't get the ball often enough to them, or in a good enough position many times, and a lot of our outside shooting was not that. … In a sequence like this, there's no doubt it's a blow to us to lose the homecourt, but we anticipated this might happen, and we're just going to have to go pick it up."
Bryant's vaunted defense didn't help much after switching onto Allen, and Kobe didn't even get his second field goal of the game until Allen already had 22 points. Bryant spent most of the first half's final minutes on the bench after picking up his third foul on a charging call drawn by Allen.
(Copyright 2010 by The Associated Press. All Rights Reserved.)