Three P-Bruins Named to AHL All-Star Game at the Dunk in Late January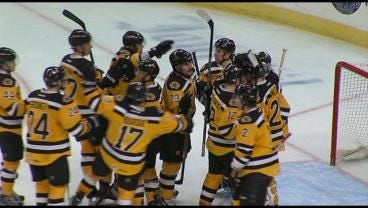 Ken Bell
P-Bruins news release…
Three Providence Bruins Selected to All-Star Roster
Bourque, Svedberg and Whitfield to Represent Providence on Eastern
Conference Team
Providence, RI – The Providence Bruins, in their 21st season in the American Hockey League, announced today
that Niklas Svedberg and Chris Bourque have been selected to
represent the team at the 2013 Dunkin' Donuts AHL All-Star Classic, to be held
in Providence January 27 and 28. Trent
Whitfield was also selected to captain the Eastern Conference All-Star
team.
Svedberg, a first-year pro from Sollentuna, Sweden has appeared in 23 games for
the Providence Bruins this season. In 1342:22 minutes played, the 6'1″,
176-pound goaltender has recorded a 15-6-1-1 record and compiled a .920 save
percentage and 2.46 goals-against-average.
Bourque, who is currently attending Boston's Training Camp, leads the P-Bruins
in scoring with 20 points on eight goals and a team-high 20 assists. The
Boston, Massachusetts native is in his first season with the Bruins after being
acquired from Washington in exchange for Zach Hamill on May 26, 2012. The 5'8″,
180-pound forward led the AHL in scoring last season with the Hershey Bears,
scoring a career-high 93-points.
Whitfield has spent part of each of
his 15 professional seasons in the American Hockey League, including the last
four with Providence. The 35-year-old native of Alameda, Sask., has played 769
career AHL games and is a four-time 20-goal scorer, totaling 240 goals and 343
assists for 583 points with Portland (1998-2005), Peoria (2005-09) and
Providence (2009- ). Originally drafted by Boston in 1996, Whitfield has also
skated in 194 career NHL games with the Bruins, St. Louis, the New York Rangers
and Washington.
Whitfield, who made his only previous AHL All-Star Classic appearance in 2003,
will captain the Eastern Conference AHL All-Stars
Tickets for the 2013 Dunkin'
Donuts AHL All-Star Classic are on sale
now by calling the Providence Bruins at (401) 273-5000 or visiting www.providencebruins.com. All-Star 2-Packs are $55 and $75 and include admission to both
the 2013 Pepsi AHL All-Star Skills Competition at 7 p.m. on Sunday,
January 27, and the 2013 AHL All-Star Game at 7 p.m. on Monday, January
28. All-Star 2-Packs are $55 and include admission to the Skills Competition
and the All-Star Game, as well as the Post-Skills Party (January 27,
9:30 p.m.) at the Rhode Island Convention Center and the 2013 AHL Hall of Fame
Induction & Awards Ceremony (January 28, 11 a.m.) at the Veterans
Memorial Auditorium.
The 2013 Dunkin'
Donuts AHL All-Star Classic in
Providence will feature the top young talent in the American Hockey League. Of
the 597 players to take part in the AHL All-Star Classic since the event was
reinstated in 1995, more than 92 percent have competed in the National Hockey
League, including Patrice
Bergeron, Daniel Briere, Dustin Brown, Ryan Callahan, Mike
Cammalleri, Zdeno Chara, Miikka
Kiprusoff, Ryan Miller, Zach Parise, Tuukka Rask, Pekka Rinne, Bobby Ryan, Martin St.
Louis, Cory
Schneider, Jason Spezza and Eric Staal.
— Bruins –