Three Plead Not Guilty To Charges In West Warwick Hit-And-Run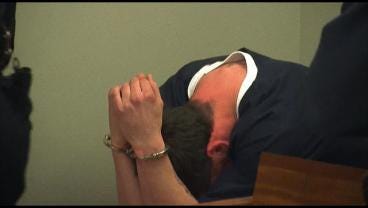 There was no shortage of emotion in court Monday as the family and friends of Michael Parrish came face to face with the three men police say ran him over twice.
Justin Schoonmaker buried his face in his hands before he went before the judge. He was driving the jeep and faces a first-degree murder charge. Marvin Abercrombie and Christopher Schreffler were in the backseat. All of them are under 25 years old.
"He was like a father figure to me," Michael Nigro, the victim's nephew said. "He taught me how to play baseball and how to be a man."
Nigro watched it all happen. He says his uncle yelled at a man on a dirt bike for making noise outside their home on Hartman Court. The driver sped off, but then came back with two more men in a jeep. They asked Parrish to come out, and when he did, neighbors joined him. Witnesses say there was screaming, rocks were thrown and eventually the driver reversed and ran over Parrish. As he drove off, he ran him over again.
"The windows got smashed. He panicked, put the car in reverse and ran over the guy," Timothy Jackman, the father of the driver, said. "This was not intentional."
Jackman says this only happened because his son feared for his life.
"He's being charged with first-degree murder and that's absolutely absurd. It was just a few dirt bikes and it got out of hand," Jackman said.
Michael Parrish's family says regardless, their loved one is gone and now all they want is justice.
"We're going to go to court everyday," Nigro said. "We're not going to let them forget what they did to my uncle."
Schoonmaker and Schreffler were held without bail. Abercrombie was released on personal recognizance.