Tim Thomas Tells Agent to Explore Return to the NHL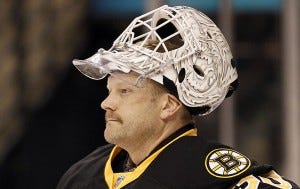 Ken Bell
G Tim Thomas open to returning after 1-year layoff
By JOHN WAWROW=
AP Sports Writer=
Goalie Tim Thomas is open to resuming his career after taking a season off, his agent says.
Bill Zito confirmed Monday night that Thomas asked him to explore what teams might be interested in the two-time Vezina Trophy winner once the NHL's free agency period opens Friday. Zito stressed Thomas is simply assessing his options before determining whether he'll return to play.
Thomas, now 39, spent last season on the New York Islanders in name only. The Islanders acquired Thomas in a trade with Boston after the Bruins suspended him for failing to report to training camp.
The Islanders traded for Thomas to have the final year of his contract count for $5 million against their salary cap to meet league's mandated $44 million minimum.
<