Tom Brady Tells Jets Media He Wants to Play Another Ten Years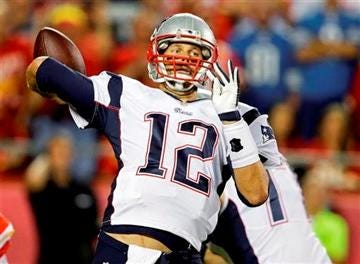 By DENNIS WASZAK Jr.=
AP Sports Writer=
FLORHAM PARK, N.J. (AP) _ New England Patriots quarterback Tom Brady says he has no plans to retire any time soon and hopes to play another 10 years.
During a conference call with New York Jets beat writers Wednesday, Brady says his goal is to play "a long time" and adds that a lot goes into having longevity in the NFL, including great teammates.
When asked if he was being serious about playing another decade, Brady insisted that is definitely his plan but acknowledged that a lot of factors would need to come into play for him to achieve that.
The 38-year-old Brady is tied for second in the league with 14 touchdown passes while throwing just one interception.
Brady's Patriots (5-0) take on the AFC East-rival Jets (4-1) on Sunday at Gillette Stadium.