Top Ranked PC Friars Rally to Beat Yale to Stay Unbeaten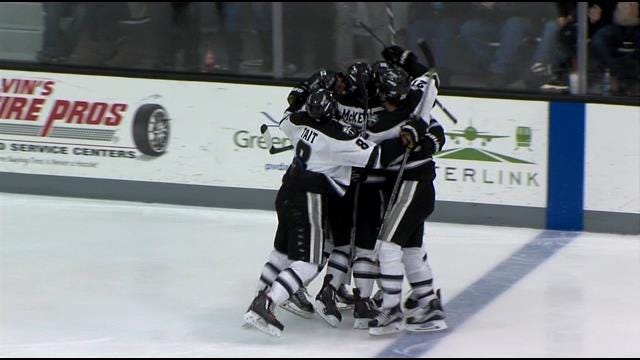 PC news release…
PROVIDENCE, R.I. – Josh Monk's first career goal tied the game and Jake Walman's 10th strike of the season minutes later capped a dramatic third period come-from-behind victory for the No. 1 Providence College men's hockey team over No. 9/10 Yale, 4-3, on Saturday night at Schneider Arena.
The Friars continue their 16-game unbeaten streak dating back to last season (13-0-3) and improve to 9-0-3 overall in 2015-16. Nick Ellis registered his eighth win of the season as he turned away 25 Bulldog shots, while Yale goaltender Alex Lyon made 27 stops to drop to 5-2-2 overall.
11 different Friars found the scoresheet on Saturday, including five defensemen as Providence continued to rack up points from the blue line.
With Yale buzzing in the early minutes, Ellis stood strong in goal prior to a Friar power play that didn't score, but gave the team some momentum. Steven McParland's work along the boards sprung the puck loose to Brandon Tanev, who found Anthony Florentino at the point. The junior defensemen slotted a seeing-eye wrister through traffic over the shoulder of Lyon to give the Friars a 1-0 lead at 6:37.
Not to be outdone, Providence cashed in again under four minutes later after a slick, no look centering pass from Mark Jankowski found the tape of Trevor Mingoia, who buried it past Lyon to give the Friars a two-goal cushion.
The Bulldogs kept pressing and finally were rewarded after Carson Cooper forced a turnover and found Cody Learned in the slot as he wired a shot past Ellis with 1:53 left in the opening period.
Providence's Brandon Tanev was tossed for the game on a hit from behind at 6:57 of the second and Yale responded with power play goals on the five-minute major in the span of 19 seconds. Ryan Hitchcock knotted the game before Stu Wilson's stuff from a bad angle found a seam through Ellis as the Bulldogs grabbed a 3-2 lead after 40 minutes.
The Friars seized momentum from there with several glorious bids against Alex Lyon, but the junior netminder shut the door for the remainder of the period.
Trailing into the third period for the first time in 12 games this year, Providence continued its strong cycle game into the Yale end to start the period. After Kevin Rooney's shot whistled just wide of the net, Monk gathered the puck at the point and found a seam through multiple bodies, including Lyon, to notch his first career goal in 54 games at 3:49.
Yale's John Hayden was nabbed for tripping just under a minute later and the Friars power play went to work. John Gilmour found Nick Saracino diagonally at the goal line and he found Walman, who's wrister beat Lyon to give the Friars a 4-3 lead with 14:42 to play.
The Bulldogs continued to push in the waning moments and appeared destined to tie the game with seconds remaining, but Mitch Witek's shot rang off the post and stayed out, preserving the Providence win.
Next up, the Friars will battle Merrimack in a home-and-home series next weekend. Friday night's game is slated for Lawler Rink in North Andover, Mass., before the teams return to Schneider Arena on Saturday.
HOW THEY SCORED:
1-0 (PC) Goal scored by Anthony Florentino (Tanev, McParland): Fed to left point, Florentino wires it through traffic and off the crossbar.
2-0 (PC) Goal scored by Trevor Mingoia (Jankowski, McKenzie): Jankowski behind the back pass just below the goal line and across the slot to Mingoia.
2-1 (Yale) Goal scored by Cody Learned (Cooper): Loose puck to the slot, snap shot over the blocker.
2-2 (Yale) Power play goal scored by Ryan Hitchcock (Witek, O'Gara): Back door one-timer.
3-2 (Yale) Power play goal scored by Stu Wilson (DiChara, Curti): Wrist shot from the goal line, beat Ellis short side.
3-3 (PC) Goal scored by Josh Monk (Rooney, McParland): Wrist shot off the boards on the point, deflected in.
4-3 (PC) Power play goal scored by Jake Walman (Saracino, Gilmour): Wrist shot from the tops of the circles.
NOTES:
The Friars are now unbeaten in their last 16 games (13-0-3) dating back to last season, which is a new school record and also continue their school record for an 12-game unbeaten streak to begin a season … Steve McParland recorded his fourth career multi-point effort … Mingoia scored his first goal since recording a pair in the season opener at Miami on Oct. 9 … Jankowski has recorded points in 10-of-12 contests … Saracino is now one point shy of the 100-point plateau after his assist on Walman's game-winner … Walman increased his team lead in scoring to 18 points and now has a team-high three game-winning goals this season … Saracino runs his point streak to eight games (3-10-13) … Power Plays: Providence – 1/4, Yale 2/6 … official shots on goal: Providence 31, Yale 28 … Attendance: 3,030.