Torrential rain pummels Southern New England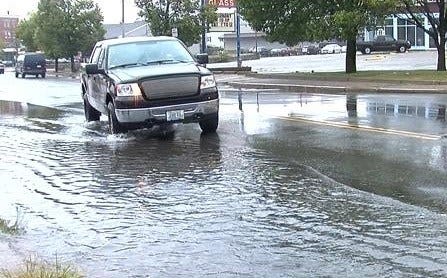 By News Staff
news@abc6.com
It was a hectic first day of rain Wednesday as heavy sheets of rain blanketed Southern New England.
The rain has cleared up for now, but torrential downpours throughout the day made roads barely visible for drivers. This, only the beginning of a week-long stretch of rainy weather.
The on-and-off heavy rain pummeled Southeastern, Massachusetts, roads, turning them to rivers. Cities like Fall River have become synonymous with floods.
"It's awful. You have to go another way. Sometimes the cops are out here and they won't even let you go through it," says Fall River resident, Karen Harrison.
City crews there kept busy all day clearing out storm drains. Over in Foxboro, heavy winds knocked down power lines. More than one thousand homes and businesses were without power in the morning hours.
The bad weather was a bit of a blessing for George's Barber Shop.
"We've had a lot of people that work construction that usually would be working right now, they've been coming in because their work got cancelled," says barber, Chris Grundy.
This week's rain is far from over, and drivers tell ABC6 they're going to avoid making treks out in the rain if they can manage it.
© WLNE-TV 2015