Local toy company makes big donation to Toys for Tots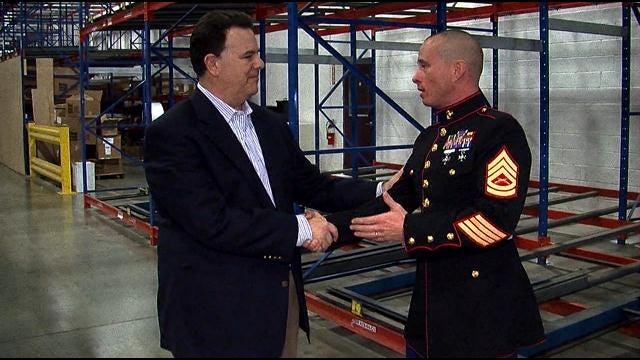 By: Melissa Randall
Twitter: @MelissaARandall
This time of year Rhode Island novelty starts to look more and more like Santa's workshop. Boxes full of toys can be found around every corner. 10 pallets of them reserved for charity.
"It makes you feel really good like Santa's helpers," said Michael Reilly of Rhode Island Novelty.
The Fall River based toy company has been turning employees into elves— to create, sort, and box the toys. Today they donated 160 cases of items to the Toys for Tots drive. The $16,000 dollars worth of puzzles games and stuff animals wow-ing the Marines.
"A donation of this magnitude is definitely going to help out a lot of kids this year," said Gunnery Sergeant James Dapont.
What makes the donation even more special is that the collection is the homecoming of sorts for the Marine who came to pick them up. Dapont was born and raised right in Fall River.
"An opportunity to come back home for an official trip… is definitely something I wanted to do," said Dapont.
The collection almost didn't happen. The company was initially told that because of sequestration and other cut back the Marines wouldn't be able to pick up the toys.
"We felt like we have all of this we want to give is there anyway you could make an exception? And they did," said Reilly.
It's a good thing, too. Toys for Tots began getting requests to helping the community back in October.
"Everyone has their issues, hard economic times, so being able to bring a smile to a child's face is why we do this," said Dapont.
© WLNE-TV 2013