Tracking Sex Offenders: Behind The Scenes of SVU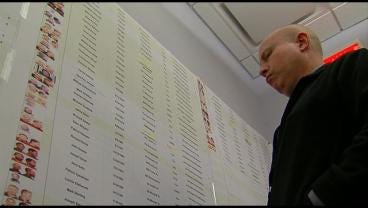 We know sex offenders live in our neighborhoods, but who's making sure they don't offend again?
Behind the scenes of the Special Victims Unit at the Providence Police Department we find out how officers keep track of the more than 440 sex offenders living in Providence.
Officer Chris Poncia of the Providence Police Department is responsible for monitoring all 440 of them.
He describes a list of the sex offenders on the wall behind his desk as "my view of the City of Providence."
That number of offenders grows everyday. On Monday, 70-year-old Angel Rivera walked into the police department to register his address. He was just released from the ACI after serving 8 years.
I asked Rivera what he did, and he responded, "well I molestate a child, she was 12 years old," said Rivera.
Rivera is a level 3 sex offender, a label that will stick with him for life.
Rivera said, "that was one mistake I make and I hope it don't repeat again."
Rivera was released from the ACI on Saturday, now he's Poncia's responsibility.
Poncia had Rivera fill out the paperwork to register as a sex offender in Providence and told him, "I work with the US Marshals wherever you go we'll come and get you so the best thing to do is do the right thing right?"
Rivera responded, "yes I understand."
To Poncia, Rivera is just one more person on his radar.
Poncia looks up at his wall of sex offenders in his office, "I look at this I see their face, their name, their address, and it's almost commanded to memory."
Every time a sex offender moves to Providence, changes their address, or is released from prison, Poncia sends out letters to everyone within a mile radius alerting people of who their new neighbor is.
"Everything will get mailed to the daycares, the schools, the libraries, and regular people in the neighborhood," said Poncia.
Many of the offenders want Poncia to know where they are, checking in with him throughout the day. His phone rings off the hook with them telling him where they are going and for how long. By them checking in, it helps Poncia keeps track of them. It also makes the offenders feel safe. Because once a sex offender is known they're not very popular, in prison or on the streets.
Rivera says he was targeted in prison and worries it will be the same in the neighborhoods.
"I don't want nobody to hurt me neither, because a lot of people like to hurt people like that," explained Rivera.
Rivera's address is added to Poncia's house visits. Part of his day where he shows up unannounced. He knocks on 4 to 5 houses a day. To make the offenders are where they say they are, and to let them know he's watching.
"I try to drive by the areas where they hang in you know just to make sure they're not near the playgrounds, they're not near the daycares," said Poncia.
Poncia gets help from two US Marshals and three probation officers from the Department of Corrections, but for the most part, it's up to him to keep track of the growing list of offenders.
When I asked Rivera if he thinks he won't offend again he responded, "I don't promise but I'm going to do my best to stay away from everything."
While police would like to believe offenders like Rivera, it's responses like this one that make them believe they will act out again.
Head of the Special Victims Unit, Philip Hartnett, says many of the level two and three sex offenders will offend again.
Hartnett said, "You hope they won't commit again, but you have to anticipate they will."
After 8 years in Prison, Rivera walks free. But with Poncia looking over his shoulder.
When Poncia goes home, he shuts his mind down, and leaves his work at the office.
He explained, "I go home I play LEGO's with my 7-year-old son and that's it that makes it all worth it at the end of the day."
Before Poncia goes home, there's one more name to add to the list. Angel Rivera, sex offender number 441.