Tractor trailer slams into bridge in Providence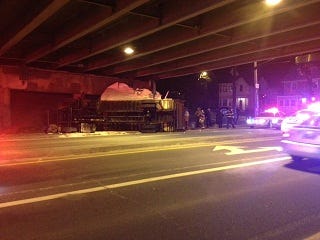 By: Alexandra Cowley
A tractor trailer crashed into a bridge on the Providence-Cranston line Wednesday night. It
flipoed on its side, ripping the metal right up. Police say the truck driver was coming off the exit from 95
around 9 P.M. when he slammed into the Route 10 overpass on Elmwood avenue near the McKinnley Street intersection.
The truck, which was carrying produce, slammed into the
pillars under the bridge.
The driver kicked open the door and crawled out of the truck. He was taken to Rhode Island
hospital with minor injuries.
DOT crews remained on scene Wednesday night assessing the structural damage to
the bridge.
(C) WLNE-TV 2014