Travelers hit the sky for Thanksgiving; off to a smooth start at T.F. Green Airport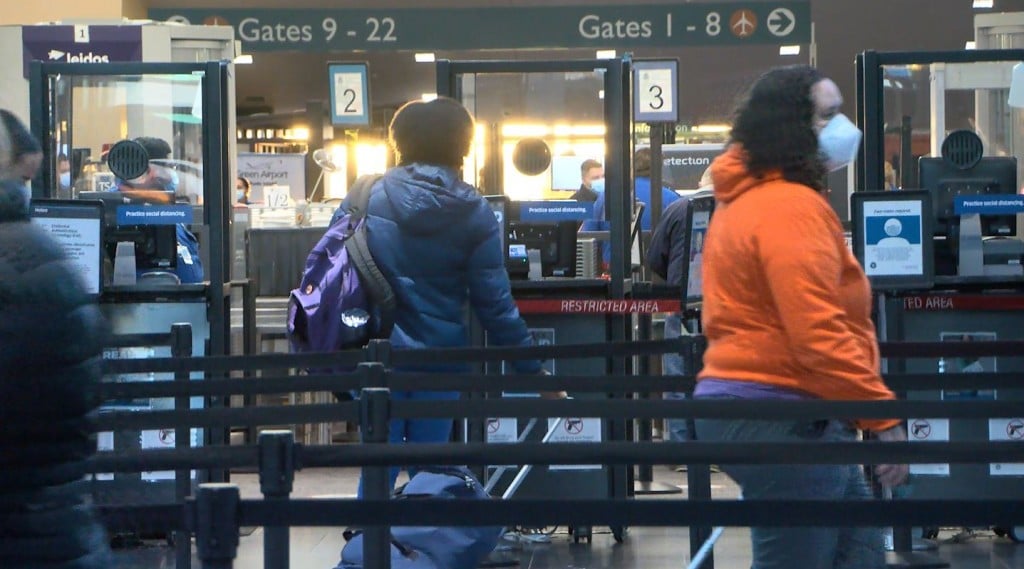 WARWICK, R.I. (WLNE) – Holiday travel is in full force at the Rhode Island T.F. Green Airport this Thanksgiving Eve.
For many travelers, this Thanksgiving is already shaping up to be better than the last.
"It's nothing in comparison," Avis Rupert said. "I was by myself in complete solitude. But this time, just to be with them and to love on them, I'm so thankful that we're together."
Rupert is headed to Dallas. She says unlike last year, this holiday will be spent with family from all over.
"I started a new job in Massachusetts, but this is my first time going home to see my family," Rupert said. "I have six grandchildren and a beautiful son and his companion. I'm so excited to see them and my mom!"
It's a similar story for thousands traveling through the airport, all headed to different places, many vaccinated, some even with booster shots, ready to reunite with loved ones over turkey.
"Last year we didn't get together for Thanksgiving or Christmas," Jim Barkstale said. "We're looking forward to enjoying it this year, we've all been double or triple vaccinated, so that makes us feel more comfortable."
With travelers back in the sky, the airport is looking like its old self this holiday season. Travel is surging locally to over 5,000 people a day, more than double the crowd from this time last year. At Boston Logan International Airport, TSA is projecting to see at least 50,000 people a day. And nationwide, more than 2-million people were screened on Tuesday alone, which is 91% up from 2019.
Though the numbers are up, here at home, there was a steady flow of passengers coming and going. COVID-19 testing is free and available upon arrival. Despite worker shortages, many flights took off without a hitch.
"I thought I was going to have to be here really early and that there were going to be long lines, but no problem, very simple," Rupert said.
The airport is expected to be busiest from 4 a.m. to 6 a.m. and 6 p.m. to 8 p.m. Officials recommend arriving two hours prior to takeoff.