Trending colder in an active weather pattern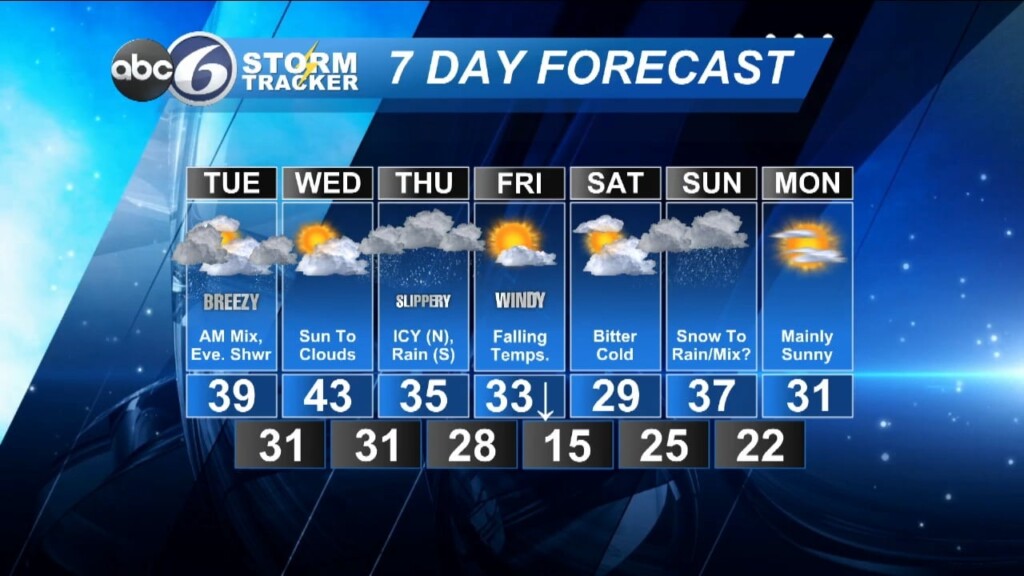 Forecast and discussion by ABC6 Meteorologist Bill Gile
After a very mild President's Day with highs around 60° things are turning around with falling temperatures into the low and mid 30s overnight.
A weak wave of energy will cross the region tomorrow morning to give us some pre-dawn snow and rain showers that will end by 8-9AM. There will not be any snow accumulations as temperatures will be just above freezing so roads will only be wet. It'll stay cloudy for midday and then a second round of rain showers comes in for Tuesday evening as another small low pressure area passes through.
We'll see some sunshine for Wednesday but the next system will approach Wednesday night and Thursday. The problem is that cold air will be draining in at the surface while milder temperatures try to come up from the south. However, this cold air will be trapped at the surface so the set up is there for wintry precipitation, especially in the northern half of RI and up into Worcester County where sleet and freezing rain will occur through the better of the day Thursday. The southern half of RI will certainly experience a cold rain with some sleet mix at times. There's still a lot of high resolution model guidance to come in this over the next 24 hours so check back in with us often.
TONIGHT: Mainly cloudy. Some light rain and wet snow showers developing before daybreak. Lows 32-36.
TUESDAY: wet start, but drier by midday with a period of scattered rain showers by evening. Highs 38-40.
WEDNESDAY: Morning sunshine then clouding up. Highs in the low to mid 40s.
THURSDAY: rain for southern RI especially the south coast with an icy mix of sleet and freezing rain in northern RI and into Worcester county. Highs in the mid 30s.
FRIDAY: sunshine with a few clouds. Morning highs in the low 30s and falling through the 20s during the afternoon.
Much colder air then settles in for the weekend!
Tune into ABC6 News your updated on-air forecast.