Troopers arrest wanted man with stolen firearm, fentanyl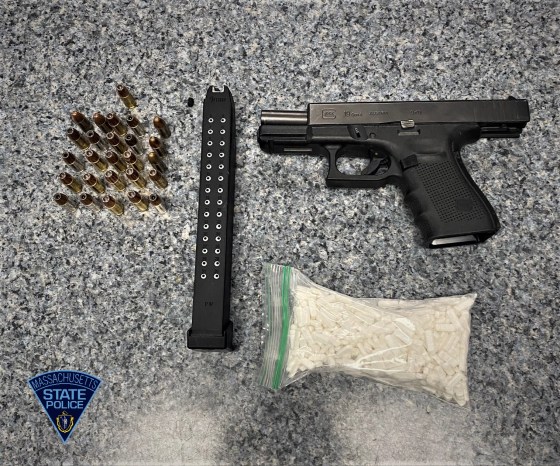 BROCKTON, Mass. (WLNE) – A wanted-Whitman man was arrested on Saturday after he was found with a stolen firearm and fentanyl in Brockton.
A Massachusetts State Trooper observed a red SUV driving with no headlights or taillights on Pleasant Street just before 1 a.m. on Saturday.
The trooper conducted a traffic stop and found that the driver, Miguel Santiago, 33, was driving with a suspended license. Additionally, Santiago had an active warrant for his arrest issued by Brockton District Court.
Santiago was placed under arrest, and a search of his vehicle was conducted.
According to Massachusetts State Police, troopers found $4,000 in cash along with cell phones, and other items troopers believed to have been used in the sale or distribution of illegal drugs.
Troopers noticed multiple areas inside of the SUV that appeared to have been tampered with.  After inspecting, troopers found a large amount of pills suspected to contain fentanyl.
State Police said the pills weighed 112 grams.
Additionally, troopers found a Glock 9mm firearm and a "large capacity magazine capable of holding 26 rounds of ammunition."
The firearm's serial number revealed that the gun was stolen in Rhode Island about 5 years prior.
Santiago was transported to the Middleboro Barracks for booking, before being released on bail.
He is scheduled to appear in court for charges stemming from his initial arrest warrant along with arraignment on the following charges:
Illegal possession of a firearm
Possession of a firearm without FID card
Possession of ammunition without FID card
Possession of a large capacity feeding device
Improper storage of a firearm
Receiving stolen property -$1,200
Trafficking in fentanyl
Possession of a firearm while in commission of a felony
Operating a motor vehicle with a suspended license
Motor vehicle equipment violation