Tropical Storm Fay Tracks Well To Our West Tonight
Rain, Heavy At Times Remains In the Forecast Tonight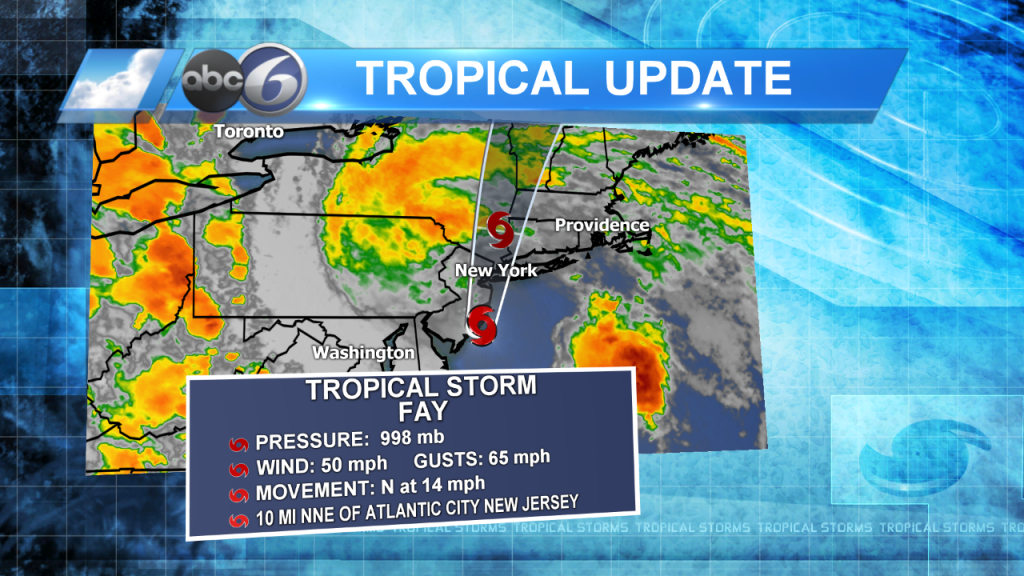 There are no current weather alerts for our area.
Tropical Storm Fay, currently of the New Jersey coast, will track North to New York City tonight and then North into Northern New England tomorrow morning. The track being to our West means that Tropical Storm Fay is not a direct hit for us, but we still have rain with a few thunderstorms overnight. Rain may be heavy at times. Breezy picks up and gusts to 30 MPH possible. Around 70°.
Saturday, rain ends early tomorrow morning, partly sunny and breezy for the afternoon. Low 80s. Saturday night, a few, very isolated, thunderstorms. Low 70s
Sunday, any lingering storms end early, partly sunny for the remainder of the day. Warm and humid. Mid 80s. Sunday night, partly cloudy. Low 70s.
Monday, partly sunny. Scattered showers late-day. Mid 80s. Monday night, scattered showers. Around 70°.
Tuesday, early morning showers, afternoon sunshine. Low to mid 80s.
Wednesday through Friday, sunny and warm. Mid to upper 80s during the day, around 70° at night.
ABC6 Stormtracker, Jeff Desnoyers
Email: jdesnoyers@abc6.com