Truck rollover caused by deer in road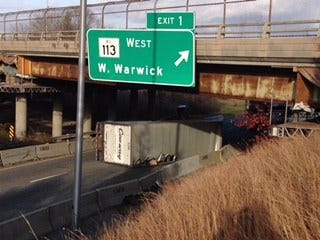 By News Staff
news@abc6.com
A truck that rolled over on 295 North at Exit 1 Thursday morning was caused by a deer in the roadway.
The rollover happened at the Rte. 113 West-West Warwick exit.
State Police say the driver struck a deer in the road, causing him to lose control.
RIDOT says the jack-knifed truck has caused Exit 11 to close on 95 North.
As of 10:30 a.m. the truck was cleared and the highway and exit ramp had re-opened.
No injuries were reported.
(C) WLNE-TV 2015