Raimondo signs RhodeWorks 'Truck Toll' bill into law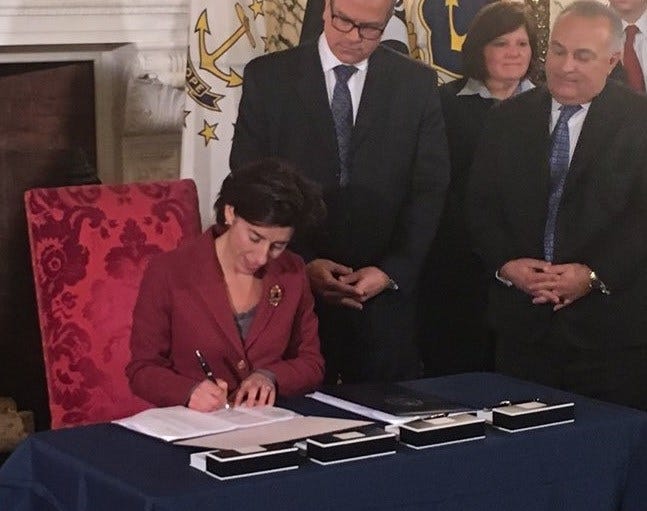 By Samantha Fenlon and Kirsten Glavin
sfenlon@abc6.com
kglavin@abc6.com
Governor Gina Raimondo officially signed her RhodeWorks plan into law Thursday night around 6 p.m.
The so-called truck toll bill will help to fund repairs for the state's declining roads and bridges by putting up 14 gantries to toll semi-trucks throughout Rhode Island. Once up and running those tolls are expected to bring in around $45 million a year.
"This is a huge step forward for the business community, but also for everybody," Governor Raimondo said. "That we're on our way to safe roads and bridges, higher quality roads and bridges. It's good for the business community and it's good for Rhode island."
The bill passed rapidly in the Senate with a vote of 25 to 12. It then went back over to the house, where it again passed 49 to 18.
"Infrastructure is the number one rated concern in the country. We just took a big step in eliminating that obstacle," Speaker of the House (D), Nicholas Mattiello told ABC6 News.
"Certainly I know that we all hope when we leave here in May, that we're going to see those first roads being done," added Teresa Paiva Weed (D), President of the Senate.
The leadership may have been happy with the bill's passage, but opponents were not at all pleased. That group ranged from the folks in the trucking industry to the handful of legislators.
"This is not a good sign for business to come and for businesses that are here," Senator John Pagliarini (R) told ABC6. "And hopefully the trucking industry is able to withstand the costs that they're about to bare."
"I've been in touch with the American Trucking Association. And we've just begun this battle," said Chris Maxwell, President of the Rhode Island Trucking Association.
Although though Governor Raimondo said it will be at least a year before the gantries are up and running, work over at the Department of Transportation will begin right away, with four consulting contracts ready to go.
"We'll get those out the door tomorrow, and we'll begin work right away," said Peter Alviti, Director of RIDOT.
The revised bill was introduced by the Governor just 14 days ago.
© WLNE-TV 2016