Truck trapped in sinkhole, water main break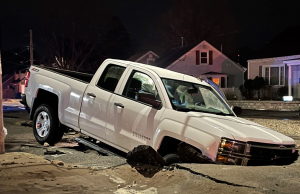 PAWTUCKET, R.I. (WLNE)- Crews are on the scene in Pawtucket, where a pickup truck sunk into the street Thursday morning.
Pawtucket Police have confirmed that the sinkhole on London Ave. was due to a large water main break.
Both sides of the road are closed off.
Police say the driver is ok and there are no injuries.