Trump says US strong because 'people are strong'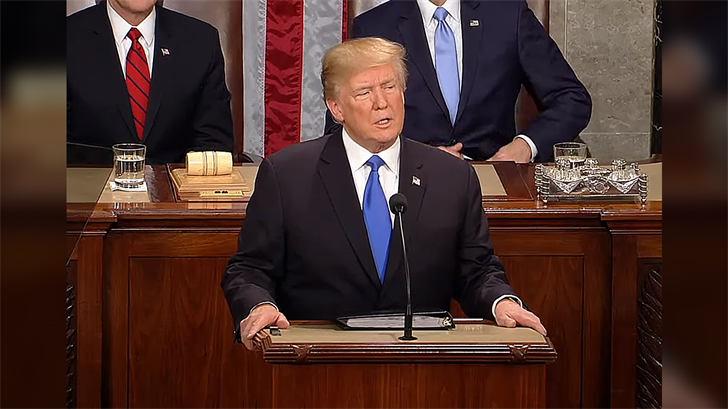 By: The Associated Press
Email: news@abc6.com
Twitter: @ABC6
WASHINGTON (AP) — President Donald Trump says the state of the union is strong "because our people are strong."
And he adds that together "we are building a safe, strong and proud America."
Trump opened his first State of the Union address Tuesday night by recognizing the bravery of Americans who helped each other through a series of devastating hurricanes, wildfires and mass shootings during his first year in office.
He also paid tribute to House Majority Whip Steve Scalise. The Louisiana Republican was severely wounded last year when a gunman opened fire on Republican lawmakers as they practiced for an upcoming congressional baseball game.
9:15 p.m.
President Donald Trump is kicking off his State of the Union speech with recollections of the year past.
Trump is talking about the hurricanes that devastated states including Florida and Texas, and the wildfires that ripped through Texas.
He says, "We have shared in the heights of victory and the pains of hardship."
He's telling those affected by the devastation that "we are with you" and "we will pull through together."
9:10 p.m.
The parents of Otto Warmbier, the American student who died of injuries suffered in North Korean custody, are in the audience at the State of the Union
That's according to a congressional source who requested anonymity because the invitation hadn't been announced.
Trump was expected to pay tribute to Warmbier's parents, Fred and Cindy, during Tuesday's speech.
Trump is trying to prevent North Korea from obtaining a nuclear weapon and the means to deliver one.
Warmbier was imprisoned in North Korea for 17 months and died shortly after being returned to the U.S. He visited North Korea with a Chinese tourist company.
9:06 p.m.
The White House says President Donald Trump has signed a new executive order to keep the U.S. military prison at Guantanamo Bay open.
Trump said during his campaign that he wanted to keep Guantanamo open and "load it up with some bad dudes."
But the White House announcement just before Tuesday's State of the Union address marks a formal reversal of President Barack Obama's eight-year effort to close the detention center.
The order preserves military detention as a counterterrorism tool by keeping the prison open.
President George W. Bush opened Guantanamo after Sept. 11 to hold and interrogate suspected enemy combatants. At its peak in 2003, it held about 680 detainees.
Bush transferred about 500 out before leaving office. Obama transferred 197 detainees out, leaving 41.
9:05 p.m.
President Donald Trump has arrived in the House chamber to deliver his first State of the Union address.
Cheers and applause rang out as Trump was introduced by the Sergeant at Arms.
Trump shook hands with lawmakers, waved and pointed at some as he inched his way down the center aisle.
Nearly every Democratic lawmaker stopped clapping seconds after the president entered the chamber. Many remained seated.
Trump accented his dark suit with a bright blue tie for the occasion.
©WLNE-TV / ABC6 2018