Twin River addresses Tiverton Town Council about casino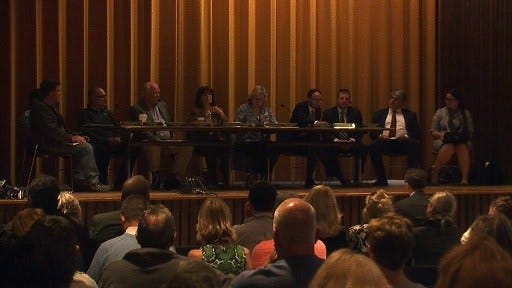 By: Rebecca Turco
Email: rturco@abc6.com
TIVERTON – Tiverton's Town Council had its first chance to talk "casino" with the folks looking to move a gambling facility into their town.
John Taylor, Jr., Twin River's management group chairman, outlined his plans for a casino Monday night at a special town council meeting. He told the council a slot and table game casino would bring the town $4 million a year in revenue.
Council members and residents had mixed reactions. "Gambling is a zero-sum game – it takes, it doesn't make," said Todd Moore of Tiverton.
Roger Belanger says he only lives a couple hundred feet from where the proposed casino would be. "We didn't build up these property values and our lives just to have it come see it be destroyed by this," he expressed.
Taylor said the group plans on developing its proposal around resident feedback. "We're hoping that we can come up with a proposal that meets the town's expectations and something that they can support."
It's up to the council whether that proposal would go up for a vote.
© WLNE-TV 2015