Twin River dicusses proposed casino in Tiverton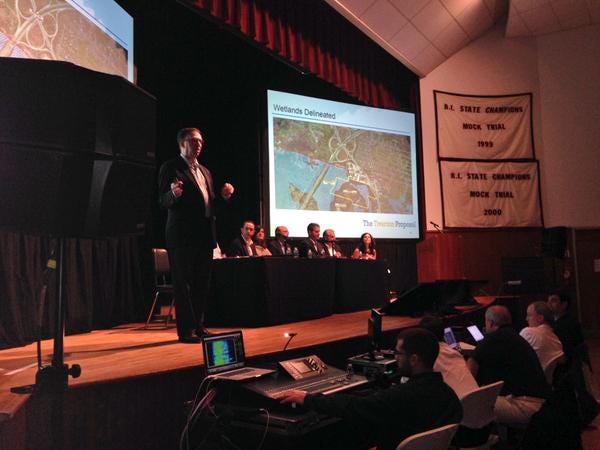 Table games and slot machines could be making their way to Tiverton Rhode Island. Well, at least that's Twin River's hope for the future, as they held a question and answer session about a casino in the town.
"We're hoping that they keep an open mind, participate in this process. To help us come back with a proposal that best meets the hopes and needs of the town of Tiverton." says John Taylor of Twin River Worldwide Holdings.
It's expected to be one–fourth the size of twin rivers casino in Lincoln. Tiverton native Dennis Demore is not happy about it.
"I've been in casinos before…it's just an unhealthy environment,"says Demore.
Twin River management says the purpose of having these meetings is to answer questions from concerned people like Demore.
The meeting was the first of three, where residents will be asked multiple choice questions, anything from which front entrance would fit the potential casino? to, what time is traffic the worst in the proposed area? and through an electronic voting device people can choose which answer they like best and the results are displayed on a large screen in front of them.
"We didn't come with a lot of fancy drawings about what we would build or what we wouldn't…what kind of amenities we would have. Because we want to have conversations to try and inform a proposal that we would make later in the fall,"says Taylor.
All results will be taken into consideration when Twin River management hits the drawing boards to finalize their plan for Tiverton's town council.
"I feel like the town needs some kind of a boost, that were not getting from anybody else. Getting a lot of empty promises and higher taxes so what would it hurt to improve things?" says Tiverton Resident Jeff Coelho.
Twin River management says they'll have a definitive proposal for the town council by November.