Two brothers vying for one Olympic spot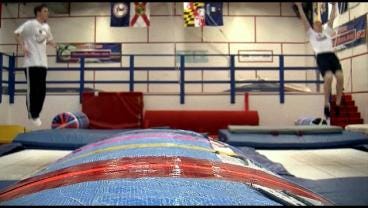 Just across the border there's a battle waging in Connecticut at the Trampoline Place, where two young men are vying for one Olympic spot.
If you ask Steven Gluckstein why he first started bouncing, he will tell you there is not a whole lot of options for a guy who is only 5' 7.''
"You could be a jockey, a cheerleader or a gymnast," Steven said. "And I was like alright, gymnastics it is."
The tricks he does on the tramp require him to go as high as 27 feet off of the ground. The Olympic routine only lasts 20 seconds, 18 of which are spent in the air.
"You have to be making such significant decisions in a hundredth of a second."

The decisions will determine if he lands the only U.S. spot on the men's trampoline team at the London Olympic Games. It just became a sport 12 years ago, about the time when Steven started training. In the first out of three Olympic trials, he scored the highest.
"I think I deserve this and this is my year," Gluckstein said. "This is what I want to do, I want to be an Olympian."
Whether or not Steven competes in the Olympics is still up in the air, but his toughest competition is a younger version of himself.
"Some days I'll look at him as a competitor, and some days I'll look at him as a brother," Steven said.
At 19 years old, Jeffrey Gluckstein is 2 years younger, and in the first Olympic trial, a six-tenth of a point behind his older brother.
"I really never thought it would actually come true," Jeffrey Gluckstein said.
They live under the same roof, and they train under the coach. Tatiana Kovaleva won the World Championship for Russia back in 1996.
"I said oh, this kid can flip," Kovaleva said. "and then I found out he had a brother and I thought oh, he's probably good as well. I just know it's our year so one of them is going to go."
There is really no doubt that a Gluckstein will be representing the United States on trampoline in London.
"I've been training way too long and too hard for this so it is going to be me," Steven said.
We will not know which Gluckstein until the third and final trial at the end of June.
"Hopefully my best is just a little bit better," Jeffrey said.
No matter who gets the chance to jump for gold, the bond between two brothers is tougher than any medal.
"We're blood," Steven said. "No matter what state we're in, no matter what Olympics, whether we're athletes, or at home, or at work or somewhere else, we're still brothers, and that's permanent."
"Yeah," Jeffrey said. "You can pick your friends, but you can't pick your brothers."