Police: Victims of Deadly Crash May Have been Involved in Break-ins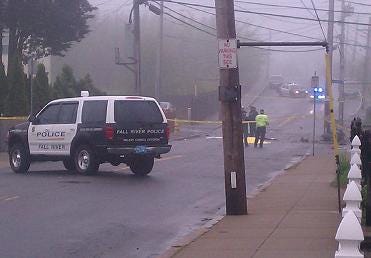 UPDATE:
Police tell ABC6 News, that the two men involved in an early morning fatal car crash, may have been involved with a string of car break-ins.
When Fall River Police arrived on the scene of the accident they noticed a number of items thrown from the car. Most of these items were consistent with items that would be taken from car break-ins. Due to this discovery, Fall River Police contacted Tiverton Police, where a string of break-ins had recently been reported.
Tiverton Police confirmed to Fall River Police that they arrested two men for breaking into cars, as well as driving a stolen vehicle, including Zackery DeCosta, 18, of Fall River. They also confirmed to Fall River Police that the men they arrested knew the two individuals killed in the Fall River accident, and that they had been with the two teens shortly before their accident.
The two teens killed in the car crash have been identified as Tre Paquette, age 17 of Fall River, and Robert John Alves, also 17 from Central Falls.
ORIGINAL STORY:
Two people are dead after an early morning car crash in Fall River.
Fall River Police report that shortly before 4am, crews responded the area of Stafford Road at Dickinson Street. On scene, they found a car had struck a pole in the area, and the force of the impact caused the car to split in half.
A portion of the vehicle continued on and struck a nearby home. No one inside the home was injured.
The two men who were inside the car were both pronounced dead at the scene, having been ejected from the vehicle. Their identities have not yet been released.
Police say speed was a factor in the crash, but the investigation is ongoing. The Fall River PD Accident Reconstruction Team, Major Crimes Unit, Crime Scene Unit and Uniform Division are investigating.