Two dogs still looking for foster homes going into final day at Warwick shelter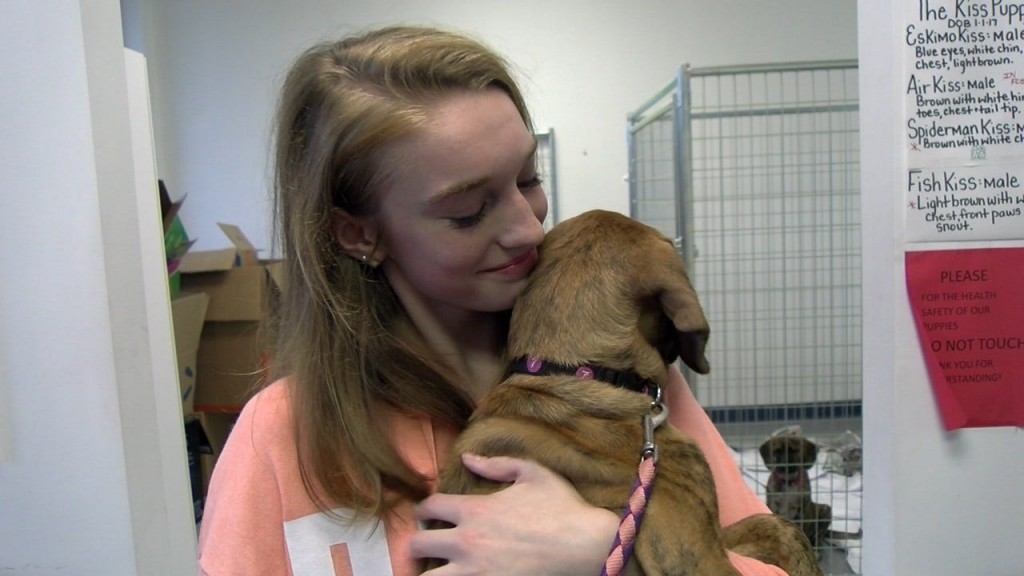 By Kirsten Glavin
@kirstenglavin
WARWICK, RI – With only 24 hours remaining to remove all of 21 dogs from their temporary shelter, The East Greenwich Animal Protection League told ABC6 News Wednesday night, that the outpouring of community support had been truly astounding. As of 7pm, only two dogs still needed to be adopted or fostered.
It was wet, sloppy kisses for Lilly Bogue of North Kingstown who met her new puppy for the first time Wednesday night at the Warwick shelter.
"Poppy… We're going to name it Poppy," she told ABC6 News.
Lilly was one of the many who went to the East Greenwich Animal Protection League to help foster dogs and puppies in need of a new home. Lilly, along with two other members of her family, however, explained they quickly realized they were more likely "foster failures," after falling in love with their new pup. They believe they will end up adopting.
"If I can take a dog or two dogs for a short amount of time, I'm glad to do it. And we all know how that turned out. I'm taking one and it will be mine forever," said Susan Bogue, Lilly's mother.
The shelter's Executive Director, Tammy Flanagan said between Tuesday afternoon and Wednesday evening she received more than 200 emails and 1,000 phone calls from people wanting to help adopt and foster their 21 dogs.
"I woke up to a phone call at 6:40am this morning from my kennel staff saying people were at the door," said Flanagan.
On Tuesday, the shelter was told by their condo complex association that all animals needed to be removed from their unit by Thursday at 5pm. The association reportedly cited noise complaints by neighboring businesses. The shelter, staying at the location temporarily until their new location in Cranston finishes undergoing renovations, also received a notice from the Warwick building inspector stating the unit did not allow for animals to be held overnight.
As of Wednesday night, out of the 21 dogs they started with 17 are scheduled to go into foster and 2 were adopted.
Only two dogs, Shirley and Sallie Mae, were still on the hunt for foster parents or forever homes.
"It never ceases to amaze me how people step up and come forward and offer to help," said Flanagan.
But for people like the Bogue's, adopting Poppy was just another addition to the family.
"I'm pretty excited about the adoption," said Lilly Bogue.