Two Josh Smiths, Hit Parade Lead PawSox Past Bisons Wednesday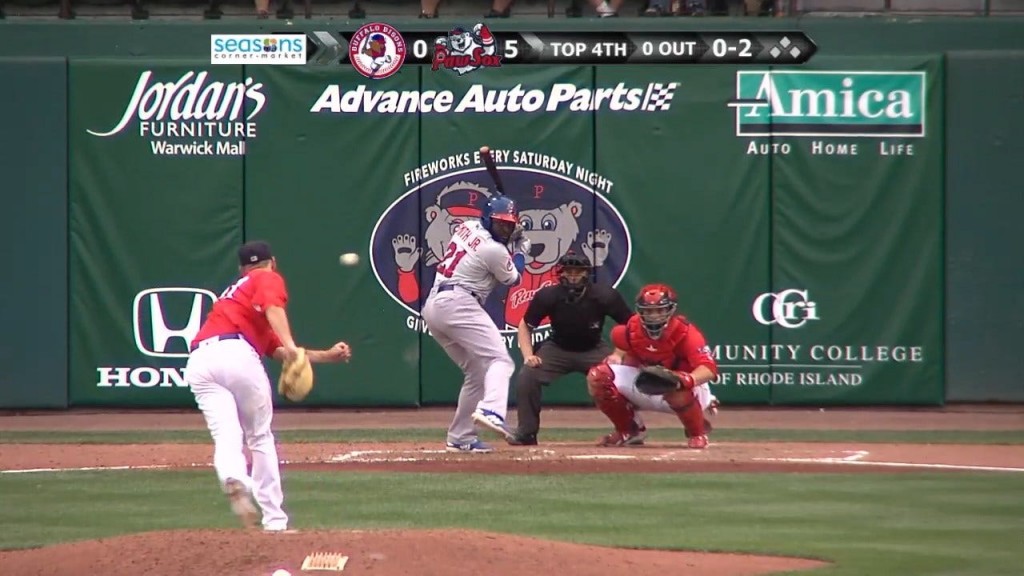 Pawtucket Red Sox Press Release
PAWTUCKET, R.I. — Two Pawtucket Red Sox pitchers, both named Josh Smith, put the Elias Sports Bureau on notice and combined on a historic three-hitter, as the PawSox trampled the Buffalo Bisons, 10-2, on a gorgeous Wednesday night at McCoy Stadium.
"Never, never. Never had anything like that," Pawtucket manager Kevin Boles said when asked if he's ever had two pitchers with the same name on the same team. "The Smith brothers did a nice job tonight. They did well."
Pawtucket left-hander Josh D. Smith was terrific in another spot start, as the 28-year old from Wichita State fired six shutout innings — matching a career-high originally set Friday — and punched out six while only ceding one hit (a second-inning single to right field). In each of his last three outings, Smith has set or matched a career-high in innings pitched. In total over these three outings, Smith has only allowed two runs on five hits in 16.1 stanzas. The PawSox then conveniently summoned right-hander Josh A. Smith (save) to relieve Josh D. Smith (win). The right-handed Smith, a 30-year old making his third appearance in the Red Sox organization, struck out four in three innings of two-run work. He had initially been slated to serve as Wednesday's starter before Justin Haley was optioned from Boston and slotted back into the Pawtucket rotation.
"Honestly, when I saw the lineup, I said, 'Man.' I was kind of confused. Is that the righty or lefty?'" Pawtucket catcher Óscar Hernández said. "But both guys did a really good job tonight."
According to Baseball Reference, 158 players with the last name Smith have played in the majors. Pawtucket's right-hander is the only Josh Smith to play in MLB. A brief sampling of Smiths to play in the majors includes luminaries such as Germany Smith, Klondike Smith, Phenomenal Smith and Skyrocket Smith.
Offensively, each Pawtucket starter recorded at least one hit, as the PawSox (34-36) pounded out 16 hits — the second-most this season — and scored in six of the first seven innings en route to the victory against Buffalo (34-31), securing at least a split of the four-game series.
Pawtucket leadoff man Tzu-Wei Lin (3-for-6, R, 3 2B, RBI), center fielder Rusney Castillo (2-for-4, 2 R, RBI, BB, HBP) and third baseman Iván De Jesus Jr. (2-for-2, RBI, 2 BB) all stayed scorching at the plate, while first baseman Adam Lind (3-for-5, 2 R, 2 RBI, BB) and Hernández (2-for-4, 2 R, 2B, RBI, BB) logged multi-hit efforts as well.
Buffalo starter Nick Tepesch (L, 0-2) allowed five runs on six hits, four walks and two hit batters across 2.2 innings.
With one out in the bottom of the first inning, Pawtucket left fielder Aneury Tavarez stung a solo homer just over the right-field wall. The PawSox then loaded the bases, and De Jesus smoked a sacrifice fly to deep center to plate Castillo and double the lead to 2-0. Right fielder Ramon Flores followed by rolling an RBI single into right field, making it 3-0.
In the second, Lind poked an RBI single into right field to plate Lin.
An inning later, Castillo's two-out RBI infield single scored Hernández, who had reached on an error, and widened the gap to 5-0.
Lind cracked another RBI single up the middle in the fifth inning to extend the cushion to 6-0. A second Buffalo error allowed Castillo to score again and tack on another run.
Lin hooked his third double down the right-field line in the sixth to score Hernández and make it 8-0.
After Lind singled to lead off the bottom of the seventh, the PawSox loaded the bases and reeled in Lind on a groundball hit to second. Hernández yanked an RBI single through the left side to make it 10-0.
Buffalo catcher Danny Jansen smacked a one-out, two-run homer in the ninth to break up the shutout.
The PawSox conclude their four-game series with the Bisons on Thursday at 6:15 p.m. Pawtucket right-hander Justin Haley (3-6, 3.18) — who has not yet been added back to the active roster following his option from the Red Sox — is scheduled to oppose Bisons righty Sean Reid-Foley (2-1, 5.11). The game will be broadcast live on NESN, and radio coverage on WHJJ (920 AM and 104.7 FM) and throughout the PawSox Radio Network begins with the pre-game show at 5:45 p.m.
The seven-game homestand against runs through Sunday. Good seats are available, and fans can visit the McCoy Stadium box office, which is open Monday-Friday from 10 a.m. through 5 p.m., and during all home games. Fans can also call (401) 724-7300 or log on to PawSox.com for tickets.