Two Men Die in Fairhaven Motorcycle Accident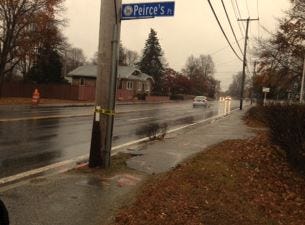 Twitter: @markcurtisABC6
Police tape on a utility pole along Route 6, marks the location where two young men died in a motorcycle accident in Fairhaven Tuesday night.
Linda Therrien, and her husband – a local firefighter – heard the crash outside their home, and rushed to help.
"And we both ran down and he went and checked one and I went over to the other one and he was already unconscious and with no pulse or anything, and so we started CPR right away," said witness Linda Therrien.
Despite their heroic efforts one victim died at the scene, the other at the hospital.
ABC6 Reporter Mark Curtis said, "Witnesses tell us that excessive speed might be a factor in this crash, they say that motorcycle first his that phone pole, down there near the white picket fence, elected the driver and passenger, and then the cycle skidded all the way up here, before stopping on Route 6.
Police did find evidence, that drinking might have been involved.
"Alcohol may have been a factor in this accident, but we're not sure until the conclusion of the investigation," said Fairhaven Police spokesman Sgt. Kevin Kobza.
Until then, police say the accident serves as a sad, but timely reminder to all.
"We're just strongly encouraging people to use common sense behind the wheel. Slow down, there is going to be lots of traffic out there. Watch the alcohol intake, please don't drink and drive, and just use extra caution especially during the holidays," said Sgt. Kobza
Witnesses were shaken up.
"You know its two young men, it's sad, right before Thanksgiving, I just think it's awful. It was tough."
Police say the victims were 30 year old Steven, Viera and 33 years old John Letendre, Jr.