Two State Managers Get Probation For Murky Fall River Pool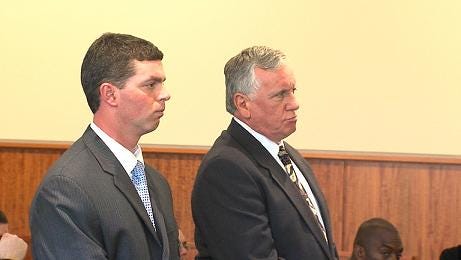 It's a case that stunned the community. A Fall River pool that was so murky, it was two days before anyone noticed that a woman had drowned there. Today, two former recreation managers learn their fates. Among those in the courtroom, as those two managers were sentenced, a friend of the victim who was with her the day she drowned.
Investigators say 36-year-old Marie Joseph drowned in a Fall River pool in June of last year. She was reported missing, because no one could see her body at the bottom of what's been described as "pea soup green" water. The only charges from this incident were pressed against two former managers, not for Joseph's death, but for keeping the pool open two days after the drowning.
Chezare Rondon was with Joseph on June 26th when police say she drowned. Rondon recalls she thought Joseph disappeared.
She remembers, "Everybody was looking for Marie, Marie was no where to be found."
Joseph was found two days later at the bottom of the Vietnam Veterans' Memorial Pool in Fall River. Rondon says Joseph couldn't swim.
"If that pool wasn't cloudy honestly they would have found her," exclaimed Rondon.
The only charges in connection to the drowning of Marie Joseph were brought against supervisors of the Department of Conservation and Recreation. Former regional director Brian Shanahan and former district manager Jeff Carter.
They were charged with reckless endangerment of a child, for keeping the pool open in it's murky condition, therefore risking the safety of swimmers.
Both admitted to sufficient facts in the case, which is not the same as guilty. They waived their right to a trial and were sentenced today. The judge gave both Shanahan and Carter one year probation. The judge will continue their case for one year without a finding. If they complete the one year probation without incident, the charges will be dropped.
Shanahan's attorney Thomas Drechsler says his client wanted to put the matter behind him. Shanahan and Carter were both forced to resign following the incident.
"Mr. Shanahan, at the time that he took his actions on the 27th of June, neither he nor anyone else was aware of the fact that someone had been injured and passed away in that pool, if he had known, his actions would have been different," said Drechsler.
Carter's attorney Joseph Silvia says his client has been subject to a lot of negative attention because of the case.
"Who wouldn't feel bad if you were in his situation, lets look at it realistically," said Silvia about Carter.
Rondon says more should be done. She believes her friend could still be alive if supervisors had kept the pool clean.
"They would have found her quick and maybe they would have been able to survive her," said Rondon.
Rondon says Joseph had gone down the slide with a friends son. She tells ABC6 that a young boy told a lifeguard Joseph had gone under the water, but no one believed him.
Unless the family of Joseph presses further charges, no one else is expected to be charged in relation to the drowning.
Assistant District Attorney Patrick Bomberg asked both men be found guilty and given two years probation.
District Attorney Sam Sutter released a statement about the sentencing.
"Although the sentences which the court pronounced were not exactly what we requested, nevertheless it is important to note that the defendants did admit their wrongdoing and the case has been resolved quickly. I think both the admissions and the quick resolution are positive for the community going forward."
The pool is scheduled to re-open this summer, but will no longer have the 12-foot deep end where Joseph drowned. Instead the deepest part of the pool will 5 ft 6 inches deep.