Two Warwick officers recognized for efforts after Boston bombing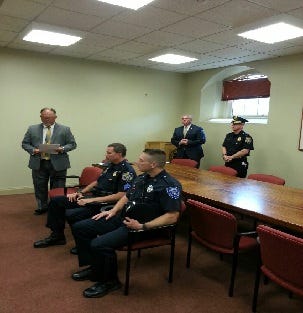 By: Melissa Toupin
Two Warwick police officers received commendations today for their efforts following the Boston Marathon bombings. The mayor, police colonel, and fire marshal will present the letters to Sgt. Allen Valliere and Officer Dale Drowne Wednesday morning at 10 a.m.
The two officers were part of a six-person bomb squad that was dispatched in the hours following the attacks. The squad assisted officials throughout the region in Dartmouth, where suspect Dzhokhar Tsarnaev went to school, and New Bedford, where friends, who have also been charged in connection to the bombings, lived.
"I am extremely proud of Sgt. Valliere and Officer Drowne and am pleased to join with State Fire Marshal Chartier and Colonel McCartney to recognize their work and to thank them for their efforts during this incident," said Mayor Scott Avedisian.
"Sergeant Valliere and Officer Drowne are two of WPD's best officers," said Colonel Stephen McCartney. "The value of having these officers on the State Bomb Squad gives the City of Warwick a valuable first response capability to a specific kind of problem that could potentially have deadly consequences."
(C) WLNE-TV 2013