Two women hospitalized after Charlestown crash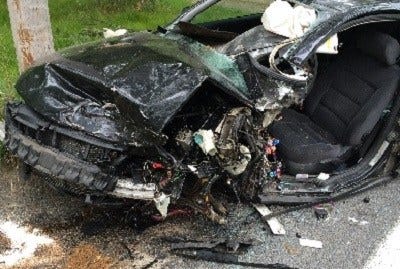 By News Staff
Two women were hospitalized after their cars collided on Route 2 in Charlestown.
Around 11:30 on Tuesday morning, police responded to the crash and found both drivers of the two cars were trapped inside.
Crews had to use special hydraulic rescue tools to get both women out. They were sent to South County Hospital with unknown injuries.
After initial investigation police determined that 19-year-old Katherine James of Hopkinton was driving south on Route 2 near Clarkin Pond Road when she crossed the center lines and struck a car going north driven by 59-year-old Susan Gordon of Charlestown.
Route 2 was shut down for about 40 minutes while crews attended to the drivers and cleaned up the scene.
Police say James will be cited for multiple traffic violations.
© WLNE-TV 2015