Tyler Seddon sworn in as Burrillville Police Chief for the day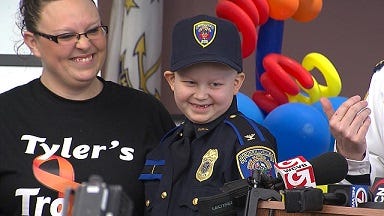 By: Samantha Lavien
Twitter: @samanthalavien
Tyler Seddon's birthday extravaganza kicked off Thursday morning as he was sworn in as the Burrillville Police Chief.
With a little help from mom the newly turned 7-year-old took the oath of office. To make his new title official, he sealed the deal with a pinky swear. And, he did have one quick piece of advice for the force during role call for the officers, to "be safe out there."
Tyler who is battling leukemia for the second time was a bit shy during the ceremony but he did let that smile and personality peak out with some prodding from family members in the audience.
Tyler's mom says she's overwhelmed with everything that has been done for her son since she put out a simple request on facebook for birthday cards just a few weeks back. It turned into a celebration involving hundreds of officers and firefighters and thousands of cards and gifts.
"I think that honestly the whole world needed to see something positive in the news. And, I'm glad that we are a part of it. I think it's amazing that there's so much support out there," said Rachel Seddon, Tyler's mom.
Tyler was picked up from his house and escorted around for the day by his hero Sgt Brian Pitts, something that made the day even more special.
"I'm just glad that there's a focus on leukemia and helping him and making the best day I can for him," said Sgt. Pitts.
It's a sentiment shared by many in the department.
"If we can ease his pain and make his day you know it think that's the goal of everyone here to let him know that he is not alone," said Col. Stephen Lynch the Chief of the Burrillville Police Department.
© WLNE-TV 2014