UMass Chancellor details days following Boston Bombings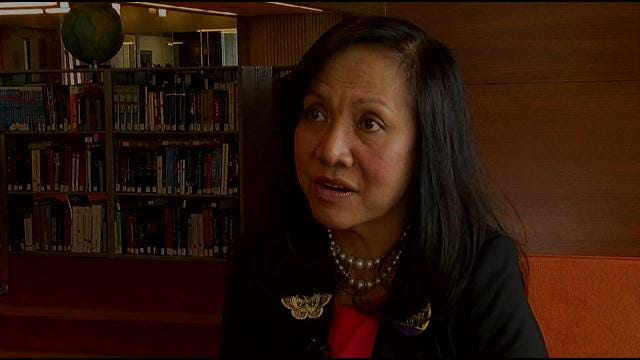 By: Melissa Toupin
A fresh start for UMass Dartmouth. The school is in the midst of renovations while students and faculty try to come to terms with the
disruptive events caused by the Boston
marathon bombings.
"This was unthinkable and unimaginable. No one could have
predicted something like this," said Divina Grossman, Chancellor at UMass Dartmouth.
Days after 3 were killed, and countless more injured at the
finish line, new Chancellor Divina Grossman made a chilling and starling
discovery. Suspect number two, Dzhokhar Tsarnaev, was a student at UMass Dartmouth.
"To know that that student, that suspect, was our student; I
mean I was just horrified," said Grossman.
As the manhunt unfolded, Grossman was forced to make tough decisions. The campus went into lockdown. Black hawk helicopters swarmed, investigators searched every inch, not knowing that 3 of Tsarnaev's fellow classmates had
already gotten rid of evidence left in his dorm room.
"I think that was just, that just added to that sense of
disbelief. How could that happen here,? asked Grossman.
As she walks the campus today, Grossman can't put out of her mind the eerie feeling she
gets, knowing that in the days following the bombings, Tsarnaev had returned to UMass.
She said, "That day that I was having a vigil with 300 people, that he
was here, that that student was here"
The Chancellor is appointing an independent task force to assess the
universities response to the events. They are working to relieve any student or parent fears, and remove any stigma from their name.
" I don't think they see it that way. I think they understand this was unforeseeable, and they
know it's something that could happen anywhere," said Grossman.
UMass Dartmouth
won't be defined by the actions of a few, the school is rising above the
adversity, and building a better future.